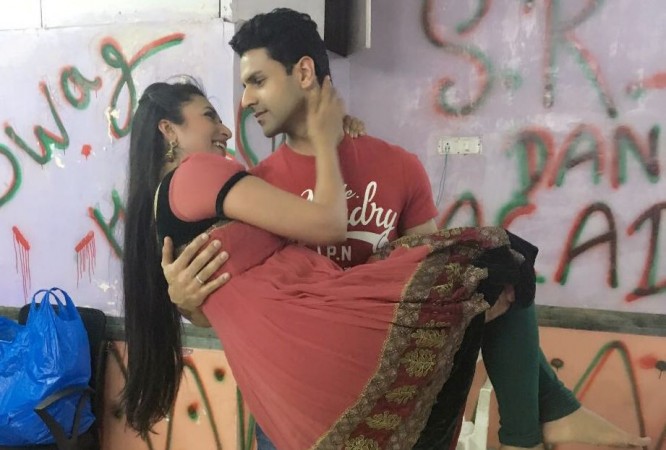 Divyanka Tripathi, who is set to tie the knot with her "Yeh Hai Mohabbatein" co-star Vivek Dahiya, seems to be smitten by her man and can't stop praising him. Recently, the actress took to her Instagram account to praise her fiancé Vivek for his performance on his new show "Kavach," which went on air last weekend. "Kavach" is Vivek's first show as a lead actor.
In the picture, Divyanka is seen hugging Vivek. She captioned the image with an adorable message that read: "You rocked in yesterday's episode. 2nd episode as #Rajbeer.... Loved #Kavach! A gripping #Biweekly!"
"Kavach," which also has Mona Singh opposite Vivek and Maheck Chahal as the main antagonist, received positive responses from the audience on its opening weekend. "Kavach" is a finite series and will revolve around Mona's character Pari, who will go to any extent to protect her husband Rajbir (played by Vivek) from the spirit of his ex-lover Manjulika (played by Maheck).
Meanwhile, Divyanka and Vivek will tie the knot on July 8 in a private ceremony in Divyanka's hometown Bhopal. It will be followed by a reception in Chandigarh (Vivek's hometown).
In an interview with Press Trust of India (PTI), Vivek said that he is lucky to have Divyanka as his life partner. "She has a positive attitude towards life. She will never discourage you. If she doesn't like anything, she will never say that on your face. She will put it in some other way. She never disrespects anyone. I value her advices and feel lucky to have her in my life," Vivek told PTI.
"There was always a thought in my mind that I should secure a lead show before my marriage. This thought was always in my mind but I didn't go out of my way to do it. We both (Vivek and Divyanka) are very happy with my achievement," he added.