Yeh Hai Mohabbatein actress Divyanka Tripathi faced with a distasteful comment when she recently shared her new Haryanvi avatar in her TV serial.
The actress looked quite stunning in red saree but a user, who seemed perturbed by her new look, slammed her for going dark-skinned in front of the camera.
The user commented on her post, "That's pathetic of you to do a black face for a tv serial. Being dark is not a bad thing and this is really disgusting of you to do."
But Divyanka was quick to give a befitting reply to the user and wrote, "If I chose to be dark... how is it pathetic? Do you find it pathetic? You guys don't even think before bashing. Which Indian actor will voluntarily choose to look dark on screen? It's not usual."
But the actress' reply was not enough to silence the user who decided to take the argument a little further and wrote, "Black facing yourself for the sake of a TV serial track is pathetic. You didn't lighten your makeup when you were pretending to be a foreigner in the serial. Why did you darken yourself to become a maid? Exactly. Double standards."
To which Divyanka replied, "Know me first before judging I'm doing that make up myself! Everyday! So please.. watch the track, understand and respect instead of writing baseless provocative comments."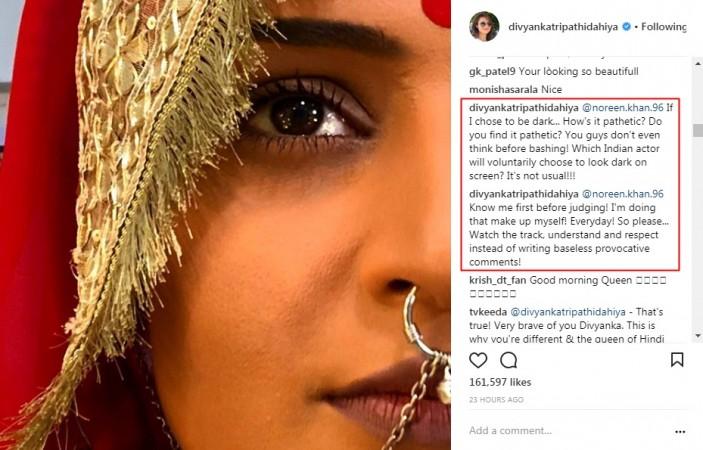 Soon the actress' fans jumped into the action and slammed the user left, right and centre after which she deleted her responses.
Well, Divyanka surely didn't see that coming before she thought of uploading the picture on her Instagram and neither did any one of us.