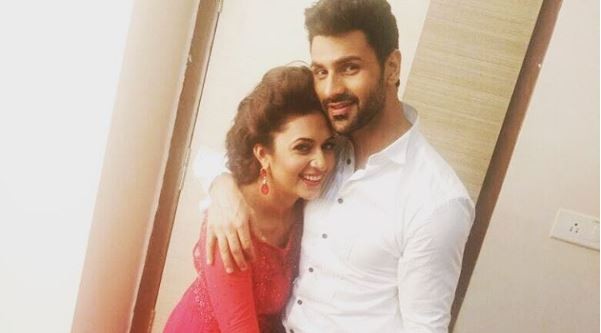 The countdown to Divyanka Tripathi and Vivek Dahiya's wedding has begun and the couple is busy winding up their professional commitments before leaving for their wedding on July 8 in Bhopal. Amid their hectic schedule, Divyanka's friends recently organised a small bachelorette party for the gorgeous bride-to-be.
Some pictures from the party have surfaced where the actress was seen wearing a bride-to-be sash and celebrating it by cutting a cake in her vanity van.
Meanwhile, Divyanka and Vivek have turned singers for their wedding and have recorded a special wedding track for their big day. Vivek shared the news on Instagram saying, "Happy faces right after we heard our "wedding trailer track". It's a soulful composition, exclusively created for Divek:)"
Not just that, both Divyanka and Vivek have also been keeping their fans updated by posting some dreamy pictures from their wedding photo-shoot on Instagram.
The wedding on July 8 will be followed by a reception in Chandigarh (Vivek's hometown) on July 10. The sangeet ceremony will be held on July 7. Divyanka has selected her wedding outfit from a popular fashion store in Mumbai. Recently, a video had surfaced where the actress was seen going through endless trial sessions before picking one that suited her best.
In a recent interview with Hindustan Times, Divyanka said that she was getting jitters before the wedding. "It is finally sinking in — I am getting married! I will be with one person forever. Now it feels real. At times I get jitters, as I worry about things going perfectly. It's such an important event. Vivek and I are coordinating and organising everything with the help of our families in Chandigarh and Bhopal, respectively," she said.