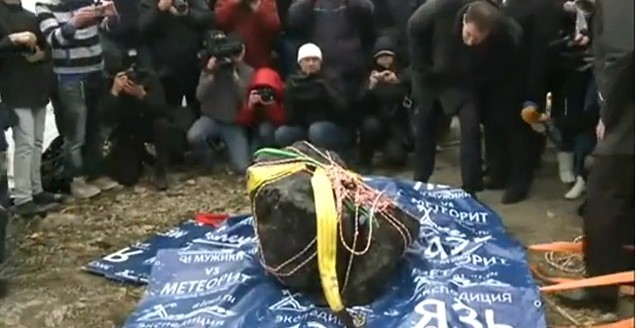 Divers have retrieved what may be the largest surviving fragment of the Russian meteorite that exploded over Chelyabinsk last February.
A team of divers has recovered half a ton piece of the space rock from Lake Chebarkul in Central Russia that probably is the top ten biggest meteorite fragment ever recovered, BBC reports.
The space rock weighs approximately 570 kilograms. This huge fragment was lifted from a depth of 65 feet with the help of several ropes and levers and the 5-foot long rock broke into three pieces. Based on this retrieved piece, the scientists estimate that the entire space rock could have weighed more than 600 kilograms.
"The rock had a fracture when we found it," one unnamed scientist told the lifenews.ru website in a live broadcast. "It weighed 570 kilogram's before the pieces fell off. And then the scale broke."
"The preliminary examination... shows that this is really a fraction of the Chelyabinsk meteorite. It's got thick burn-off, the rust is clearly seen and it's got a big number of indents...," said Sergey Zamozdra, associate professor of Chelyabinsk State University, as cited by Interfax news agency.
The fragment retrieved was later transferred to the regional history museum where a small sample of the space rock will be X-rayed to determine the minerals present in it.
The team has been working since September to retrieve the piece but their work was hampered by zero visibility, and the mud covering the rock took 10 days to pump out. There were storms that further delayed the removal of the celestial object.
Till date, nearly 12 pieces of the meteorite have been retrieved from the lake, out of which only 4-5 pieces actually belonged to the meteorite fragment. Researchers have also found that the Chelyabinsk meteorite is a mix of several types of ordinary chondrites. The melange inside the fragment indicates that the meteorite may have crashed with another asteroid in its early history, NBC News reports.
It was last February that bright objects streaked across the Russian sky and triggered a boom, which damaged buildings and broke several glass windows injuring more than 1,000 people.
Take a look at the meteor fragment and the damage the meteor caused last February.