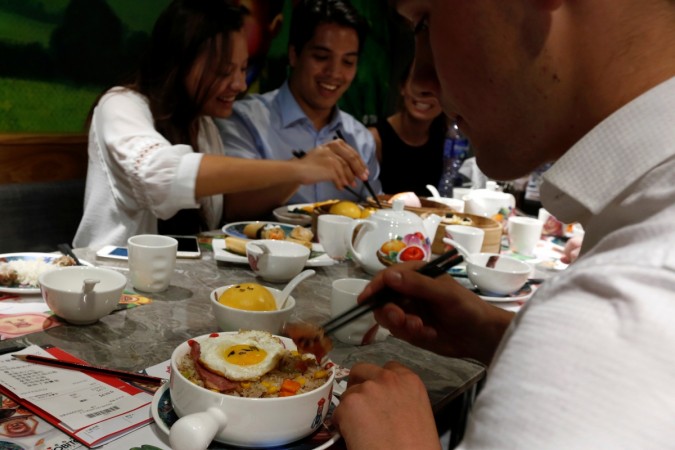 A New Zealand restaurant has come under the scanner for using racial and sexual clichés to name its dishes on the menu.
Despite, the restaurant claiming it was only for humour, many social media users and foodies have panned the Asian restaurant for being racist.
The restaurant in Christchurch, called Bamboozle, has featured names like "Ho Lee Kok" and "Eja Ku Rait" in their menu.
The food items in the fusion restaurant also include names like "Chirri Garrik an Prawn Dumpring" and "Suk sum teet".
Reports have suggested that although the restaurant has been serving the dishes under these names for almost two years, a recent picture of the menu went viral on social media this week.
The restaurant, however, has rubbished the allegations of racism and has said the customers enjoyed the name of the dishes as "part of the experience".
Another delicacy called "Tay's Velly Special Penang Style Seafood" is part of the menu, which is a reference to how some people from China have difficulty pronouncing the alphabets L and R.
Soon after the incident came to light, many users went to the Google Reviews page of the restaurant and left negative comments, bashing it for racism.
However, restaurant owner Phillip Kraal, in his interview to New Zealand Herald, said: "Pretty much everyone [sic] of our customers enjoys the written menu as part of their overall experience."
He added that the restaurant appreciates the feedback and was "actively considering it."
There have been different kinds of reactions to the restaurant labelling their dishes with a racial tone to it. Some social media users have called it "hilarious" whereas the other section has termed it as "disgusting" and "shameful".
Here are some of the Twitter reactions.
I love it when random non-East Asian New Zealanders appropriate our ethnic group's right to be offended at something before we've had a chance to decide for ourselves ...

— Philip 銘光 Siu ?? (@siuphilip) January 12, 2018
Gross. How the hell could they possibly think it was appropriate?

— Grant Shimmin (@shimmo23) January 9, 2018
Horrors! They left out "flied lice"!

— Grace Yee (@goldmountainsis) January 10, 2018
Clearly no sense of humour. I find it hilarious. Imagine everyone had a boring sense of humour like you?

— Thomas ? (@_TL10) January 11, 2018
I'm offendened! 2017 is over, we can stop using that thing now and actually see that kind of stuff with a pinch of humour, instead of being boring fucks offended by everything.

— Kamil Kochanowski (@Theinolt) January 12, 2018