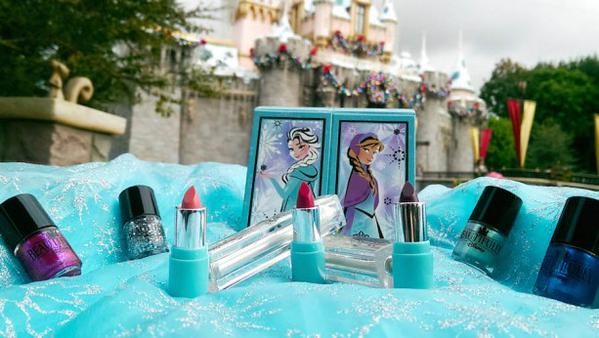 Just days after a stage musical and a sequel were announced, Disney has launched a 'Frozen' makeup line.
Fans can now look as glamorous as Princess Elsa or as funky as Princess Anna with the help of the new makeup items.
This new makeup line adds to an already existing exclusive range of 'Frozen' merchandise, which includes costumes, figurines, board games, "musical wands" as well as sofas.
The makeup collection includes an eyeshadow palette that will have both Elsa and Anna colour schemes, three lipsticks, four nail polishes and a set of rollerball eye pigments, Daily Mail reports.
But, there's a catch! Fans can purchase the products only at Disney's theme parks in the United States – Orlando and Anaheim.
However, the line that is currently available only at Disneyland and Walt Disney World Resorts will soon hit online stores, Bustle reports.
More importantly, the makeup items are in the affordable price range. They cost between $15 and $40.
Disney has made sure to maintain the 'Frozen' theme throughout the collection as the items have been given wintry names like some of the shades are called 'Spiralling Snow' and 'Frozen Queen'.
Even though the packaging contains illustrations of both the main cartoon characters, the collection is designed to appeal to an older generation.
This new venture by Disney is a strong message that 'Frozen' is definitely not just for kids. Its popularity could be gauged by the fact that most people could identify and sing along with the chorus of 'Let it Go'.
The film released more than a year ago and has been subjected to criticisms for its bold take on few issues, but the craze for 'Frozen' products has kept the spirit of the film alive. In fact, many kids' Christmas wishlist is full of 'Frozen' toys.