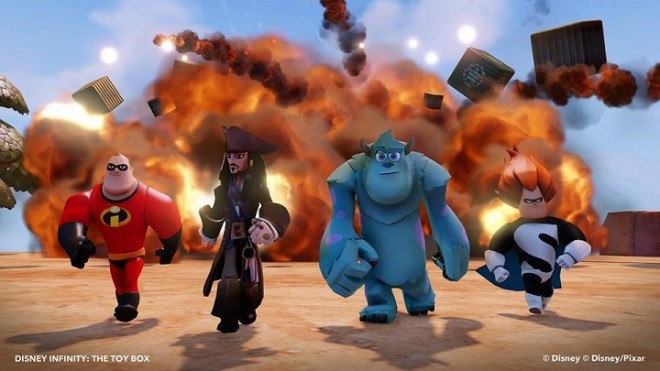 Publisher, Disney Interactive Studios has released five new Toy Boxes for its action-adventure video game Disney Infinity, which was recently launched for PlayStation 3, Wii, Wii U and Xbox 360
The five Toy Boxes that were released are as follows:
Ton Highway - Players can race a Light Runner, battle enemies, navigate mazes and find hidden paths to get to the end of the broken highway.
Sugar Mania - Take King Candy's Royal Racer for a sweet spin on a Sugar Rush-inspired racetrack.
Monster Rally - Pull off a series of tricks in a side-scrolling stunt show spectacular.
Cosmic Platformer - Compete with friends on an obstacle course that's out of this world.
It's a Trap! - Pay close attention to get through these puzzling rooms. Beware of traps and double jumping.
The game has collectible figurines, which are synchronized in the game along with characters from Disney and Pixar. It has has two modes, Play Set and Toy Box. The characters in the game have their own set of unique ability based on their specific movies and each game has a specific gameplay. Unless players are playing in the Toy Box mode, characters from one cannot be played into another world.
Toy Box mode gives freedom for players to completely customize their characters and gives an open-world arena. Players can customize characters, weapons and gadgets and create a game they want. They can also unlock new content and add them in this mode. This mode allows online multiplayer.
Disney Infinity: Toy Box app is also available for download. Players can enjoy a "fully playable version of the unique Toy Box mode from Disney Infinity," the announcement said, Cinema Blend reported. "The app offers high quality graphics and gameplay for tablet players, as well as unprecedented connectivity to Disney Infinity's console gaming experience."
VG247 has reported that there will be a new Toy Box every week.
The game's PC version will be out in October 2013.