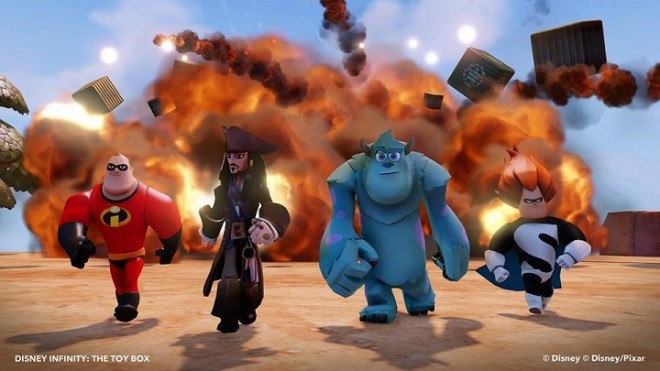 Disney Infinity 2.0 will get two new characters - Maleficent and Princess Merida - said publisher Disney Interactive Studios, during the preview of their new movie "Maleficent" from director Robert Stromberg, starring Angelina Jolie as the titular character.
The character Maleficent, who is an evil sorceress, is from Disney's 1959 animated movie "Sleeping Beauty". Princess Merida, on the other hand, is the lead character from the animated movie "Brave" (2012).
Previously, Disney had hinted on Twitter that Maleficent might be added to Infinity 2.0. Both these strong female characters will be playable in the new Toy Box 2.0 mode.
"We're thrilled to announce that Maleficent and Merida from Pixar's Brave will be coming this fall to Disney Infinity (2.0 Edition). You'll be able to use both characters, plus hundreds of Disney-themed items, locations, props, and vehicles to create your own worlds in the 2.0 Toy Box," read a post by Disney Infinity team on its official website.
Maleficent's character will use magical powers that can be used in melee and combat. Maleficent can use projectiles that can harm multiple targets, coming under the area of her attack. She can also summon brambles from ground and ravens which can attack from the sky.
Meanwhile, Merida will come with weapons like bow and arrow. Players can use the combo attacks and upgrade her aim using elemental freeze arrows which will freeze the enemies in front of her to deploy quick arrows.
The game has a huge range of characters from "The Avengers" too. Other characters like MODOK, Rocket Raccoon, Groot, Spider-Man, Green Goblin and many more have also been added.
Disney Infinity 2.0 will release in September 2014 for PC, iOS, Wii U, PlayStation 3, PlayStation 4, Xbox 360 and Xbox One.
Pikmin 3 Gets GamePad Update
Real-time strategy title Pikmin 3, from developer Nintendo EAD Group No. 4 and publisher Nintendo, will get a new update that will enable players to make GamePad stylus as its default control option, Polygon reported.
The new option will allow players to use the controller to switch between characters, toss and control them. This control feature will also add new buttons for each of Pikmin 3's prominent characters, like Alph, Brittany and Charlie on GamePad's screen, the report said. It will also add one button each in the Apps menu.
Pikmin 3 was released as Wii U exclusive on 4 August.