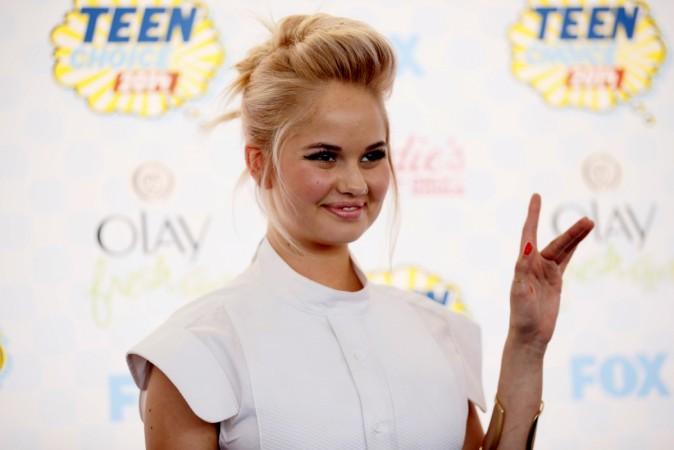 Disney actress Debby Ryan, who was recently booked for DUI after she slammed her Audi into a Mercedes, took to Twitter on Wednesday to apologise to her fans for her reckless behaviour.
Claiming responsibility for her actions, Ryan said she wished she had shown better judgment. "Over the last few days I have had the chance to think about my actions, and I wish I had used better judgement," the "Jessie" actress said in her post. "I recognize that I am a role model and have always worked hard to set a good example for my millions of fans. I am so sorry to disappoint everyone."
Fans of the actress were clearly impressed with Ryan's show of remorse, and they have been pacifying her saying everyone made mistakes. "You're a human being, you make mistakes & you're learning from them. we love you so much you're not less a role model than before," wrote one fan."[She] made a mistake and she feels awful about it. she's paying the price enough with the guilt. she learned," another added.
According to a TMZ report, police officials gave Ryan a field sobriety test after she slammed her car into a Mercedes and she was immediately booked for felony DUI as the driver of the other car claimed injury. The 22-year-old actress' blood alcohol level was 0.11 percent, which is just a bit over the 0.08 percent legal limit.
She was released on $100,000 bail.
Ryan starred as Jessie Prescott, a nanny to a high-profile couple's four children, in Disney Channel's "Jessie." In an Annex magazine interview, the Disney actress, who believes in keeping her image squeaky clean, said the shock factor might not be the way to change the way fans see a star.
"An ABC sitcom star can post a picture with a red cup in the background, and nobody would say anything, but if a Disney star did that, there would be controversy," she said. "The shocker factor may not be your friend. You have to know what you've already been portrayed as [on television]. [Your fans] don't know certain sides of you yet."