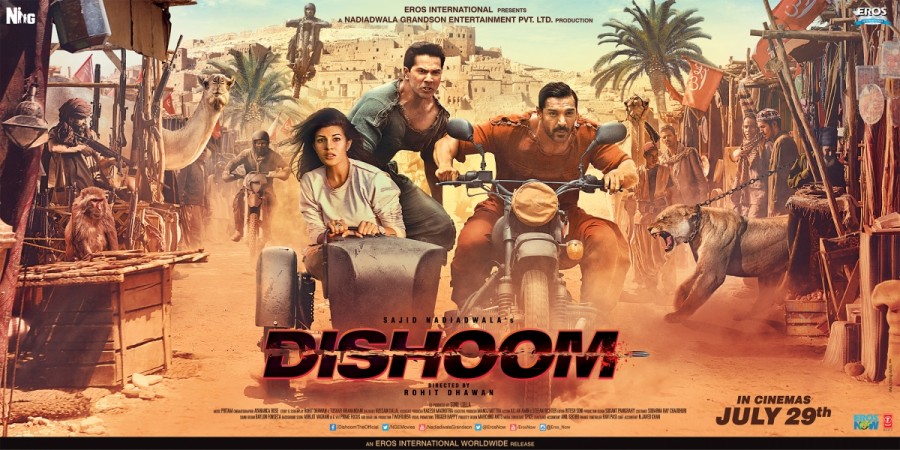 "Dishoom," starring Varun Dhawan and John Abraham, apparently has much similarities with that of Akshay Kumar's "Main Khiladi Tu Anari" (1994).
The Akshay-starrer featured him as a serious tough cop who is solely dedicated towards his work and does not entertain any non-sense. John too plays a similar character in "Dishoom."
"Main Khiladi Tu Anari" also starred Saif Ali Khan, who was seen as a pupil of Akshay's character; much like Varun's role in "Dishoom." Jacqueline Fernandez's character in "Dishoom" also apparently resembles that of Shilpa Shetty's in the Akshay-starrer.
There are definite similarities between the two sets of characters. Add to that, even the female lead in 'Dishoom' is similar to 'Main Khiladi Tu Anari.'
In the latter Shilpa Shetty chased down the reluctant Akshay Kumar to get his attention. "In 'Dishoom,' Jacqueline Fernandez does exactly the same," SKJ Bollywood News quoted a source as saying.
Akshay also has a cameo in "Dishoom" as he had shared his appearance in the film on social media. The actor was seen riding a bike and had long hair. Directed by Rohit Dhawan, "Dishoom" has hit the screens on July 29.
It is an action movie where the main antagonist, played by Akshaye Khanna, abducts the top cricketer of Indian team. Varun and John are given the task to rescue the player. Jacqueline, who plays the character of a dual secret agent, eventually joins the team.
Akshay will next be seen in the much awaited movie "Rustom" that is based on the real-life incident of the Nanavati murder case. It will hit the screens on Aug. 12.