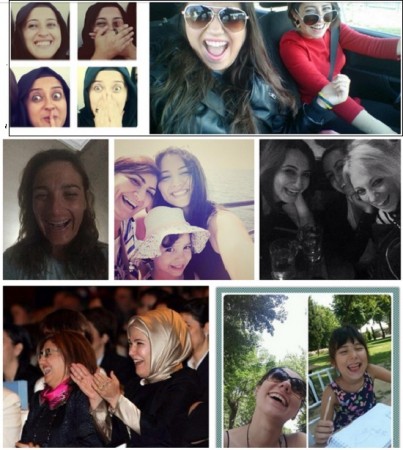 Turkish women have reacted with defiance after Deputy Prime Minister Bulent Arinc stated that women laughing out loud in public was "immoral".
Bulent, in his Eid al-Fitr address, had demanded that Turkish women should stop laughing out loud in public and should also give up talking incessantly on mobile phones.
The Deputy PM also said in his speech that women in the country have lost their sense of chastity, local newspaper Hurriyet Daily reported.
"Where are our girls, who slightly blush, lower their heads and turn their eyes away when we look at their face, becoming the symbol of chastity?" the leader stated.
And women in Turkey have now taken to social media platforms to express their defiance against the dictate of the conservative politician.
Many have started posting photos of themselves laughing in public, under the hashtag #direnkahkaha, which basically means 'resist and laugh'.
Grappige hashtag: #direnkahkaha :) "@GlobalPost Turkish women laughing in public http://t.co/8zibK3HyZj pic.twitter.com/iAl4atvsQ0 @KatjavanNus

— Daphne Hendriks (@daphentria) July 29, 2014
The country's main opposition party's leader Ekmeleddin Ihsanoglu also came out in support of the women.
"Our country needs women's and everyone's laughter more than anything," Ihsanoglu tweeted.
The comments of the Deputy PM has once again raised suspicion that the country's Prime Minister Recep Tayyip Erdogan, who leads a conservative political party, wants to convert Turkey into an Islamic state, Global Post reported.
Since the election of Erdogan, the country has slowly been adopting strict Islamic practices.
Earlier in April, a Turkish court had convicted pianist and composer Fazil Say on blasphemy charges over a series of tweets he had posted, The Guardian reported. The musician was eventually given a suspended 10-month jail term. The verdict was "a sad one for Turkey", the pianist had said, while denying the charges against him.
Twitter reactions
#direnkahkaha :DdDdDdfDdDdDdDdd pic.twitter.com/OSp7hOHlYq

— Berfin yuriç (@Yuricberfin) July 29, 2014
If you missed, don't... Turkish women in laughing protest with social media campaign #kahkaha: http://t.co/vdREtCyTOc pic.twitter.com/hAzRFCrpuI — Emre KIZILKAYA (@ekizilkaya) July 29, 2014
bir kahkaha atsam, karşıki dağlar yıkılsa, bülent arınç altında kalsaaaaaaaa...... hahahhahahahahahaha #direnkahkaha pic.twitter.com/OOZN9hG2aZ

— Pia (@diren_pia) July 30, 2014
2 years of resisting ISIS and others! Now stronger & more determined than ever! Biji YPG! #direnkahkaha pic.twitter.com/nVgU1N1eul — @Hevallo (@Hevallo) July 28, 2014
@esitiz #direnkahkaha pic.twitter.com/Fr8gyUARPC

— Çağlar (@cizgiadam85) July 29, 2014