Malayalam director Lal Jose began the 'journey of his life', with the aim to cover 27 countries by road.
The director is joined by friends Baiju N Nair, an automobile journalist, and Suresh Joseph, former General Manager of Dubai Ports. The three-member team plans to cover 24,000 kilometers in 75 days.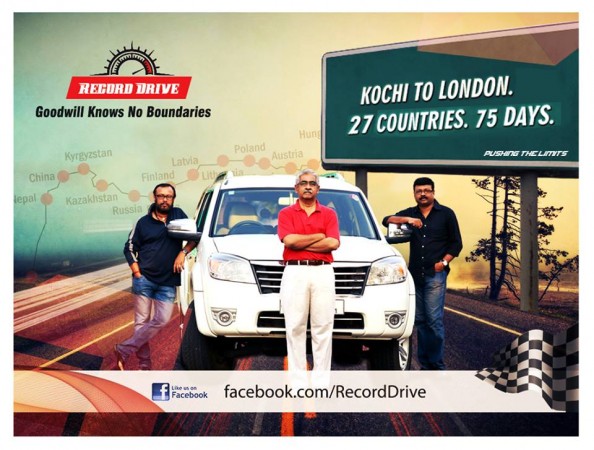 "My mother didn't allow me to play lot of sports as child because I had lot of health problems. So I started my friendship with books. Different places, unknown faces and unfamiliar languages that I read in my books used to conquer my dreams. Now, I am post my middle age and I am set to conquer my dream," Lal Jose wrote on Facebook.
"Yes a trip to London from Kochi by road... 27 countries, 24,000 kilometers. I am excited about all the surprises and experiences that are awaiting me in the journey. At the same time, I am concerned about the worries of my friends and family who are waiting for my safe return. My dear friends, I request you to pray for my safe journey and peace to the hearts of those who care for me," he added.
The Indian stretch of the trip includes Bangalore, Hyderabad, Nagpur, Jabalpur and Gorakhpur. The team will enter Nepal and cross over to Tibet, where they will visit the base camp of Mount Everest and Lhasa. From there, they will move to Europe through China, Kyrgyzstan, Kazakhstan and Russia.
In Europe they will travel through Estonia, Finland, Latvia, Lithuania, Poland, Czech Republic, Austria, Slovakia, Hungary, Slovenia, Italy, Switzerland, Germany, Denmark, Sweden, Norway, Netherlands, Belgium, France, Ireland and finally England's capital London.
"Much to our surprise, we found out that in all these 27 countries, there is an MG Road (Mahatma Gandhi Road) and Gandhi square, and we are planning to visit these spots. Since no one has embarked on such a journey before, we are a bit uncertain regarding certain aspects of the trip," Baiju told The Times of India.
"But we are planning it in such a way that we get at least half a day to explore and experience the cities that we are planning to visit. Looks like it will take a minimum of six days to cross India. We are also planning to visit the Mount Everest base camp, or travel up to Mansarovar, before going to China," he added.
The team is planning to write a book on their journey soon after their return. The trip will be documented in many ways, and the varied moods of the trip will be visualised using a GoPro camera.
The purpose of the journey is to carry the message of world peace with the slogan "good will knows no boundaries". The team has started the journey in a 2010 model Ford Endeavour. The trip is expected to cost ₹75 lakh, and the team will meet local public as well as Indians in each country.
Before starting the journey, Lal Jose has wrapped up the shoot of the film "Vikramadithyan", starring Dulquer Salman, Unni Mukundan and Namitha Pramod.