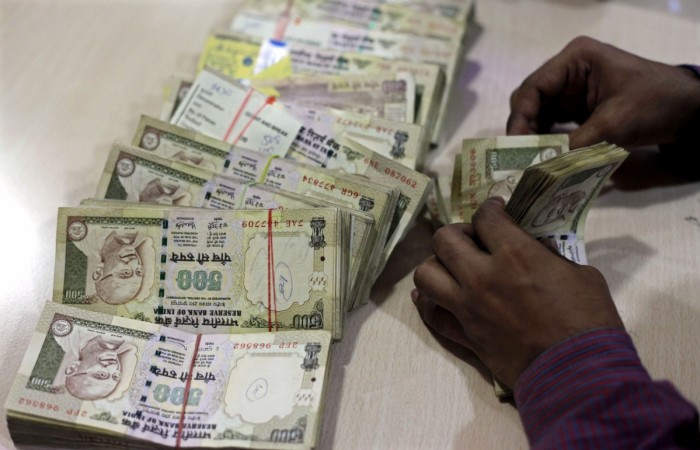 In a series of tweets, the union finance ministry said on Monday that total tax collection has risen to just above 20 percent of budget estimates for the financial year 2016-17. The BSE Sensex crashed over 500 points on the first trading day of the week tracking global cues.
Total tax collection (net) at the end of the five-month period ending August 31 stood at Rs. 5.25 lakh crore, buoyed by increase in both direct and indirect taxes.
Direct tax collection (net) at the end of August stood at Rs. 1.89 lakh crore, up 15.03 percent over the corresponding period last year and accounted for 22.3 percent of the budget estimates for the current fiscal.
Indirect tax collection (net), comprising service tax, customs duty, excise duty and securities transaction tax (STT), rose to Rs. 3.36 lakh crore, up 27.5 percent from the net amount collected in the corresponding period (five months) last fiscal.
Service tax collection was up 23.2 percent at Rs. 92,696 crore, while central excise receipts rose 48.8 percent to Rs.1.53 lakh crore for the five-month period ended August 2016 from Rs. 1.03 lakh crore in the year-ago period last fiscal.
Sensex plunges over 500 points
The BSE Sensex crashed almost 550 points on Monday tracking global cues but later recovered and was trading at 28,405, down 392 points, or 1.36 percent. The heat map showed Tata Steel, Adani Ports, Axis Bank, State Bank of India and Hero Motocorp.
Asian stock markets showed weakness in the wake of concerns over rising bond yields and the possibility of the U.S. Federal Reserve increasing interest rates as early as next week.
Net Tax collections on account of Service Tax during April-August, 2016 register a growth of 23.2% over corresponding period last year..

— Ministry of Finance (@FinMinIndia) September 12, 2016
Net Tax collections on account of Service Tax in April-August, 2016 stood at Rs.92,696 crore compared to Rs. 75,219 crore in April-August 2015

— Ministry of Finance (@FinMinIndia) September 12, 2016
Net tax collections on account of Central Excise show a growth of 48.8% during April-August, 2016 compared to corresponding period last year.

— Ministry of Finance (@FinMinIndia) September 12, 2016
Central Excise collections stood at Rs.1.53 lakh crore during April-August, 2016 as compared to Rs. 1.03 lakh crore during April-August 2015

— Ministry of Finance (@FinMinIndia) September 12, 2016
Till August 2016, 43.2% of the Budget Estimates of indirect taxes for Financial Year 2016-17 has been achieved.

— Ministry of Finance (@FinMinIndia) September 12, 2016
Indirect tax collections (Central Excise, Service Tax & Customs) upto August 2016 show that net revenue collections are at Rs 3.36 lakh crore.

— Ministry of Finance (@FinMinIndia) September 12, 2016
Growth rate under Corporate Income Tax (CIT) is 1.55% while that under Personal Income Tax (including STT etc.) is 24.06%.

— Ministry of Finance (@FinMinIndia) September 12, 2016
The figures for direct tax collections up to August, 2016 show that the net revenue collections are at Rs. 1.89 lakh crore.

— Ministry of Finance (@FinMinIndia) September 12, 2016