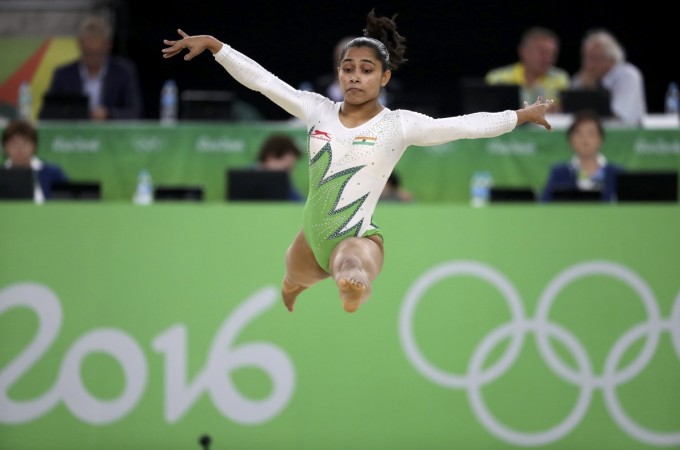 Dipa Karmakar may have failed to bag a medal at Rio 2016 Olympics, but the daredevil gymnast has certainly won millions of hearts. After impressing the world with her first vault stunt, Dipa's Produnova stunned everyone in India and she received widespread appreciation from all quarters.
In sync with the entire country, Bollywood celebrities too praised Dipa for her courageous act. Several B-Town celebs took to Twitter and congratulated the gymnast for making India proud. After she became the first Indian to have qualified for the Vault finals at Olympics, fans were hoping that Dipa might bring the first ever gold medal for India.
Although Dipa performed the risky Produnova magnificently, she missed the bronze medal by a whisker, securing the fourth ranking at Rio 2016. Meanwhile, a host of big Bollywood stars appreciated Dipa for creating history. Celebs like Amitabh Bachchan, Hrithik Roshan, Akshay Kumar, Pooja Hegde, Shreya Ghoshal, Madhuri Dixit Nene among others shared praising words for her on Twitter. Check some of the tweets here:
Hrithik Roshan: Victory or loss,Never feel sorry 4doing ur best! India is proud. But more importantly I wish 4 u 2 b proud of urself! #DipaKarmakar #Respect [sic].
Akshay Kumar: You may have lost but you've won a million hearts and inspired a lot more to walk your path. Cheers to your spirit #Dipa Karmakar! #Proud [sic].
Riteish Deshmukh: #DipaKarmakar you inspire each and every Indian. Thank you for being that shining star. [sic].
Arjun Rampal: Wow what an inspiration sports is #DipaKarmakar you inspired every Indian today.This is just your beginning.You are an Olympian champ. [sic].
Shekhar Kapur: Its not about winning medals. Its about breaking through all stereotypes n proving u are there with the best, u inspire us all #DipaKarmakar [sic].
Amitabh Bachchan: #DipaKarmakar .. the pride of India .. your story is what compels us to do better ... and we will !! Many congratulations !! [sic].
Neha Dhupia: Freedom means to go live ur dreams n make them come true, #DipaKarmakar u ve taught an entire nation about freedom #HappyIndependenceDay [sic].
Madhuri Dixit Nene: Go girl #DipaKarmakar...shine on!!! [sic].
Pooja Hegde: #DipaKarmakar continues to be an inspiration.Thank you for ur story...There's always next time really proud to say that she's from my country [sic].
Gauahar Khan: #DipaKarmakar my hero.. [sic].
Bman Irani: So so close Dipa! Will always be proud of you. You give hope to many young people who dare to dream! #DipaKarmakar #Rio2016 [sic].
Shreya Ghoshal: Praying for our #DipaKarmakar ! Proud of you [sic].
Shoojit Sircar: Hope you all know Dipa Karmakar. Who is from Agartala and Agartala is in Tripura..And Tripura is in North East and is part of INDIA [sic].