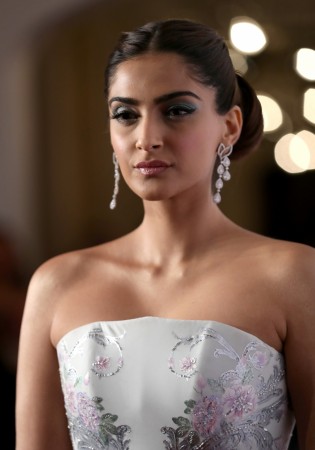 Sonam Kapoor's boho look in Elle Magazine's January edition impressed a lot of fashionistas. But who knew that the dress was a copy!
Yes, Delhi-based design studio, People Tree, has claimed that the print is their original which came out years back. What did Sonam Kapoor wear then? Well, the actress wore the dress from Christian Dior's Resort 2018 fashion show for Elle Magazine's shoot helmed by London-based photographer John-Paul Pietrus.
People Tree's founders are angry and it's valid. They have proofs to show that the print and design was theirs.
Talking to Mid-Day, Orijit Sen, co-founder of People Tree, said: "I'm angry. It's virtually a copy-paste job of our design. The graphic designer created the print in question, The Yoga Print, in early 2000, right after he founded the collaborative art and design studio with wife Gurpreet Sidhu in 1990. Since, it has appeared widely on T-shirts, tunics, shirts, sundresses and fabric yardage, all sold under the People Tree label. "It's one of our classics, which has sustained itself because of its popularity. It's not just a question of inspiration. They [Dior] have also copied the colour combination. It's a total rip off. We are in talks with a lawyer to see what our legal options are," said Sidhu.
Orijit also told the leading daily: "India is a hotbed of textiles. Gandhiji used khadi as a symbol of resistance and change. Now, mega brands are walking all over our heritage. Art is the free-flowing exchange of ideas. Would I rather concern myself with protecting it? Instead of supporting and honouring Indian crafts and textiles, they [big labels] are feeding off our hard labour."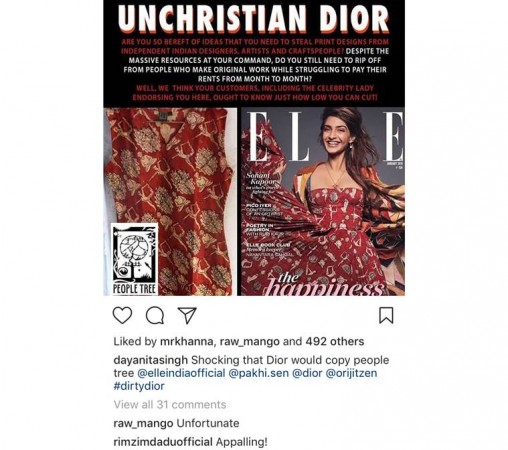 The brand is being trolled heavily on social media. Gurpreet Sidhu and Pakhi Sen, who have worked at People Tree, have also uploaded pictures comparing the two prints that prove plagiarism.
Let's wait for Sonam Kapoor or Dior to react to this controversy.