International Business Times, India, recently reported that Diljit Dosanjh seems to have found his new celebrity crush in Wonder Woman actress Gal Gadot. Honestly, we wouldn't blame him, she is a gorgeous diva.
Leaving a comment on her Instagram post, Diljit attracted massive attention online. The Jatt has now returned to drop yet another comment on her photo but this time, he reached out to her to vent.
Also Read: Bye Bye Kylie? Here's proof Diljit Dosanjh has found new 'Punjaban' in Wonder Woman Gal Gadot; fans troll
The Soorma star, who previously made headlines for his attraction towards rumoured-to-be pregnant Kylie Jenner, commented on the Israeli actress's post where she is calling her fans to support a social cause.
Taking to the comments section, Diljit wrote: "Tere Chakkar ch Jatt Badnam Hoyea Ferda India Media ch.. Kaada Comment maarta.. Kylie Gussey Kiti Addh.. Banda Hun Dil di Gal v Na Kare Yaar.."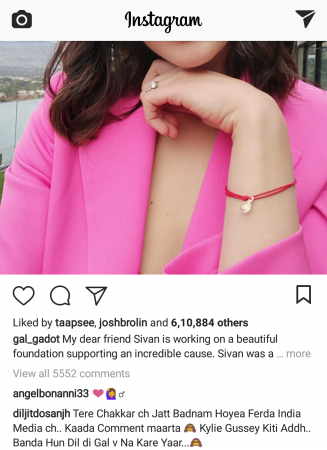 His comment loosely translates into this: Because of you, Jatt (referring to himself) has been defamed in the Indian media. Just because of my comment, Kylie is also angry. A man can't even share his thoughts now?
This hilarious venting comment drew nearly 5,000 likes and several fans thronged to reply to his comment. With many giving him a reality check, there were a few loyal fans who requested Gadot to pay heed to him.
Comments ranged from reminding Diljit that Gadot is not a neighbourhood girl that he could reach out to easily to asking the Punjabi superstar to comment in English in order to get her attention.
"Plzz mam listen to him. He's desperately trying to reach you. He's a good guy," pleaded a fan.
But why does Diljit comment in Punjabi? The star spoke to PTI recently and explained the reason while talking about Kylie. "What makes me happy is how much people are interested in my comments. I never leave any chance to comment. But she [Kylie] hasn't replied yet, may be soon. Also, I comment in Punjabi, so that she doesn't reply. My people should have fun that's it."
Diljit Dosanjh is currently filming for Soorma with Taapsee Pannu and will be seen alongside Sonakshi Sinha later this year.