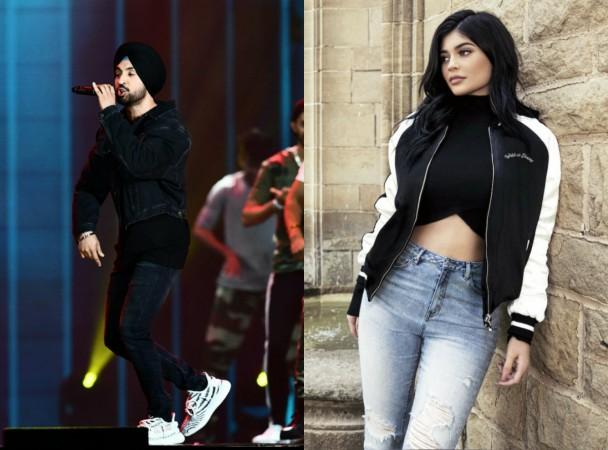 Christmas spirit has taken Hollywood by storm. Stars have been sharing jaw-dropping pictures of their pine trees online making us extremely jealous. One such celebrity was Kylie Jenner who recently uploaded the photo of her stunning Christmas tree on Instagram giving a glimpse of the holiday season in her home.
Rumoured to be pregnant, the reality star shared the image of a 20-foot-tall tree set and decorated in her house. Thanking Artistic Director, Jeff Haynes-Leatham, the Jenner sister captioned the image: "20 feet of magic! Even more perfect in real life ..."
Fans quickly took to the comments section to share their thoughts and Punjabi superstar Diljit Dosanjh was not far behind. Liking the picture on the social media platform, the Soorma star shared a heart-warming message that honestly made us envious.
Leaving the note in Punjabi, the actor – singer's message loosely translates into this:
"Congratulations sweetheart.. Sorry that I have been so busy.. that I couldn't give you enough attention.. Take care of yourself.. And have fun.. No matter what the world says, don't take too much tension.."
Here's a screenshot of the message: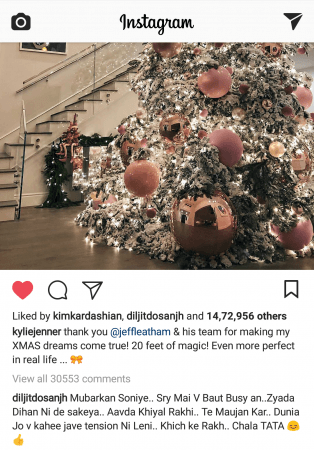 In the message, the actor's busy schedule is being referred to his packed filming schedule. Diljit recently unveiled the first look at his upcoming Bollywood movie aka biopic, Soorma, also starring Judwaa 2 star Tapsee Pannu.
Diljit plays the role of hockey and ex-captain of the Indian hockey team player Sandeep Singh in the biopic. The actor is undergoing vigorous training for the role. Apart from that, Diljit is also be seen in Punjabi flick based on World War I.
This has led to the actor becoming lesser than usual active on social media platforms and (in his own words) not able to give the Kardashian member the time and attention he usually gives.