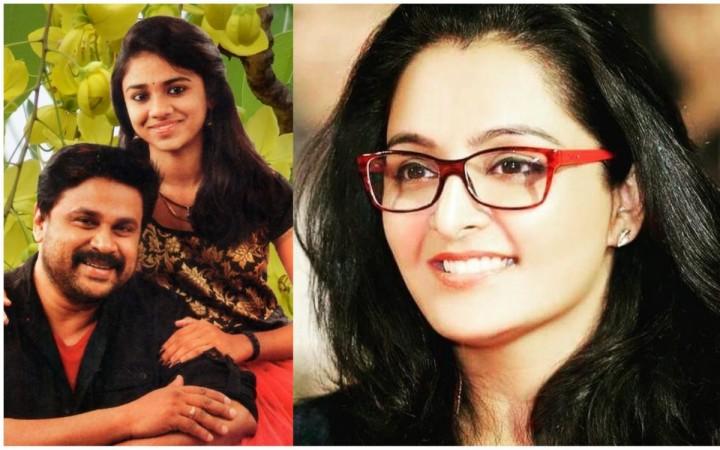 The dramatic arrest and imprisonment of Malayalam superstar Dileep has spawned unseemly speculations. The foremost is that Dileep and former wife Manju Warrier may end up with another court battle over the custody of their daughter Meenakshi.
Dileep, who was arrested on Monday over the sensational attack on a fellow actress, ended his 15-year marriage and got divorced in January 2015. Their daughter was sent with her father after the actress said she was not interested in a tug of war over her custody. Now, with the arrest of Dileep on July 10, reports emerge that Manju might approach the court for her daughter's custody.
Also read: "I am not scared and will prove my innocence," says defiant actor Dileep from jail
Currently, Meenakshi stays with Kavya Madhavan whom Dileep married in November 2016. Despite being a person active on social media, Manju has not reacted to the latest news yet.
Dileep, who was presented before the magistrate early morning on July 11, has been remanded to 14-day judicial custody at the sub jail in Aluva. The investigators have said they have collected 'irrefutable proof' to press charges against the actor when the arrest was registered at 6:30 pm on Monday.
Also check: Who is Dileep, Malayalam superstar arrested in South Indian actress' abduction case?
Meanwhile, Dileep, often called Janapriyanayakan by the audience in Kerala, was expelled from the Association of Malayalam Movie Artistes (AMMA) on Tuesday, following an emergency meeting by executive members held at the residence of megastar Mammootty. It has to be noted that the members of the actors' association had earlier lashed out at media for targeting Dileep, and had stated that they will protect the actor and abducted actress, being the children of AMMA. Read more: Dileep expelled from AMMA, FEFKA and producers' association
Check out four controversies of Dileep here: