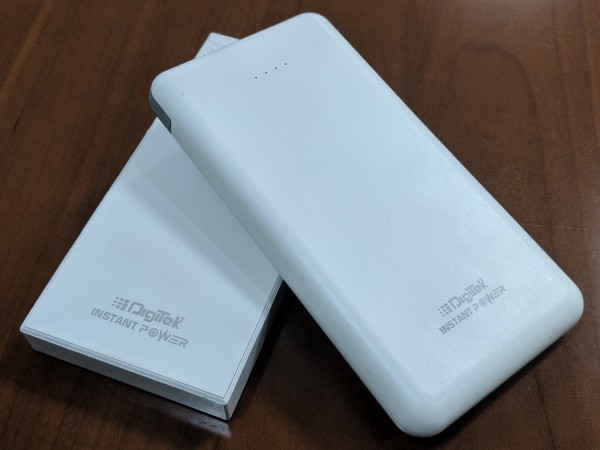 Digitek is a name synonymous with smartphone accessories and the company recently launched two new products, addressing the world's biggest smartphone problem. Every smartphone user has complained about battery woes, and it is likely the one thing that even unites Android and iOS users.
To address this problem, companies are developing new technologies, but the most popular solution for your battery problems is a power bank. But if you've looked online for a power bank, there are a multitude of options, which can easily leave you baffled.
But if you've shortlisted a few options, which include Digitek power banks, here's a review of the company's two latest products – DIP-12000 PLB and DIP-10000 PLD. The numbers signify the mAh that each power bank packs, so users can choose whichever model depending on their need. More mAh means more battery power to charge your phones.
We have been testing Digitek's new power banks for a brief while and here's what we think of them.
Digitek DIP 12000 PLB: Rs 2,995
Digitek DIP-10000 PLD: Rs 2,495
DIP 12,000 PLB
This is a bigger power bank compared to its sibling. It packs 12,000mAh power, which is theoretically enough to fully charge 3,000mAh battery-powered smartphone four times. But the real world case is going to be different, so here's what we found.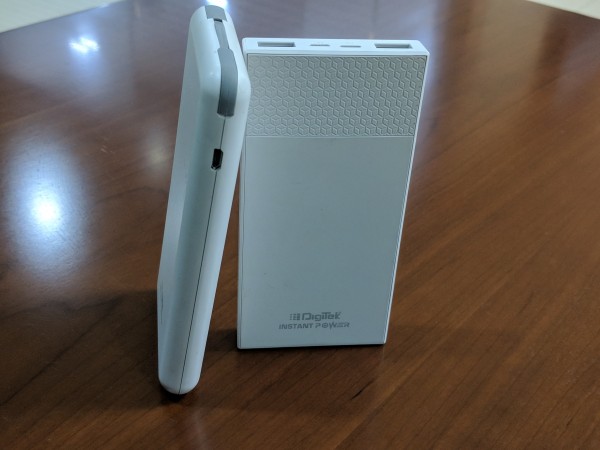 Digitek DIP 12000 PLB has two outputs to allow us to charge two devices simultaneously. Two inputs, one for microUSB and another for Lightning cable (iPhones), allows users of both Android and iPhone to recharge the power bank.
We mainly used the power bank to charge Android smartphones using the original cable provided by the phone's manufacturer. Charging times varied from device to device. With a fully-powered Digitek's 12,000mAh power bank, we were able to:
Charge Pixel 2 XL to 40 percent
Charge OnePlus 5T to 60 percent
Charge OnePlus 5T to 80 percent
Charge Pixel 2 XL to 20 percent
After these four occasions, the power bank died. For your reference, the Pixel 2 XL comes with a 3,520mAh while the OnePlus 5T sports a 3,450mAh unit. Both phones have fast charging capabilities, but using the power bank doesn't help.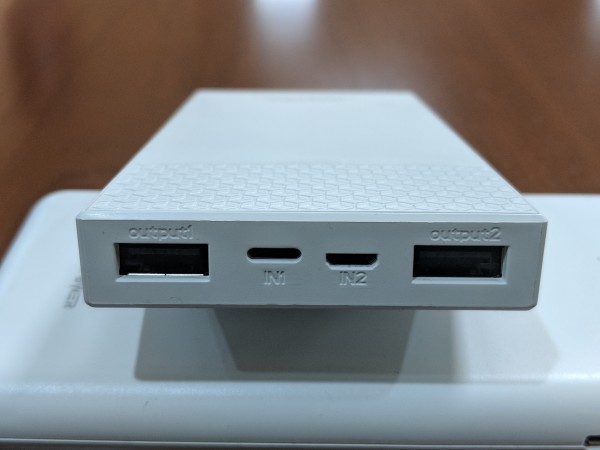 During our review, we found the power bank took 75 minutes to charge the OnePlus 5T from 20 – 80 percent, whereas it took one hour to charge the Pixel 2 XL up to 40 percent. In order to fully charge the OnePlus 5T, which already had 20 percent juice left in it, Digitek power bank took two hours.
Considering it's just a power bank, and used at the time of need, like traveling or power cut, we are fine with the delay in charging speed. However, it is disappointing to see that the 12,000mAh power bank took more than 4 hours to fully recharge itself from a direct power source. But it's worth the wait as the power bank can store the juice for up to a month. We haven't tested it for a month, but the power remained intact even after two weeks.
DIP 10,000 PLD
Besides packing slightly low power than the DIP 12000 PLB, the DIP-10000 PLD comes with a unique design, which we will discuss later in this review. As for the performance of this power bank, we found similar results as the 12,000mAh variant.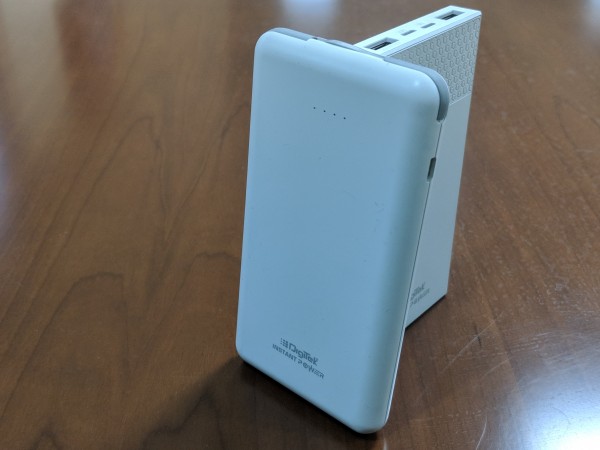 This power bank was able to fully charge the OnePlus 5T twice before it needed a recharge. Charging the power bank was just as slow, as it took more than 3 hours to fully recharge it. There is one input port for charging the power bank and two output ports, which can supply power to devices simultaneously.
Design
We alternatively used Xiaomi's Mi Power Bank 2 10,000mAh unit, and we found Digitek's models not as pocket-friendly as the Xiaomi one. We found ourselves using the Digitek power banks while driving or while carrying a backpack with a long enough cable to charge the phone in the pocket. Both power banks are quite bulky to be carried around in jeans.
But we loved the DIP-10000 PLD more than its other sibling. The DIP-10000 PLD comes with a cable of its own, which seamlessly attaches to the power bank like it's a part of it. Pulling the rubber flap on one side gave us access to microUSB as well as a Lightning port, which was extremely useful. Apple iPhone users needn't carry their special cable or Lightning connector pin.
Even with such use, we were disappointed with the finishing of both power banks. The plastic feels cheap, but it's best for rough handling. The Lightning connector inside the DIP-10000 PLD doesn't pull out easily. You'll have to carefully plug the microUSB into the Lightning connector and try multiple times to pull it out.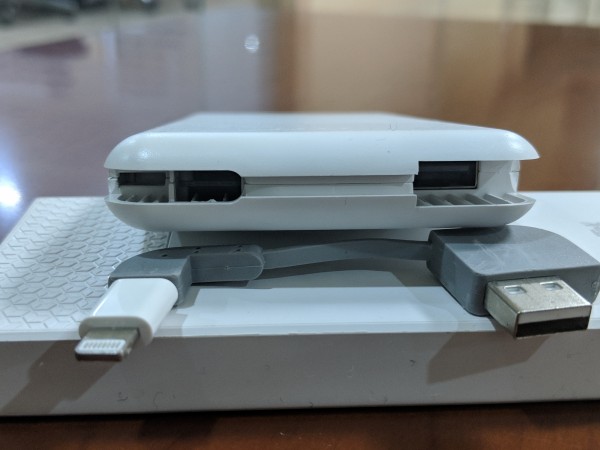 On the other side of the rubber flap, there's an input to insert your own cable. This comes handy while charging two devices simultaneously.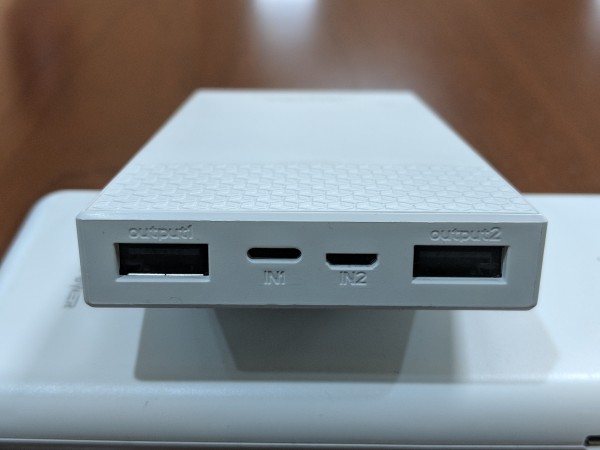 The 12,000mAh Digitek power bank has a box type design, with inputs and outputs aligned in one single line at the top. There are four LED lights a button on the right side, and pressing it will indicate the power left in the bank. A similar button isn't available on the 10,000mAh power bank, but the LED lights will illuminate when a device is plugged in or the power bank is being charged.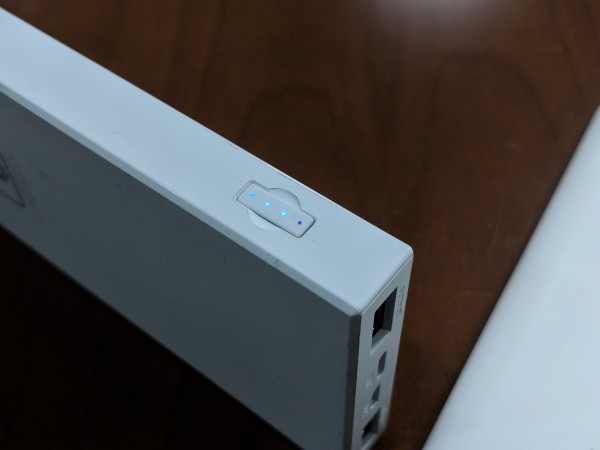 Are these power banks worth it?
There are plenty of other options in the market, but Digitek power banks have some of their own perks. We recommend the DIP-10000 PLD for iPhone/iPad users who hate to carry a charger or a cable around. The DIP 12000 PLB is best suited for travelers, and the power stored up to 1 month is certainly a boon.