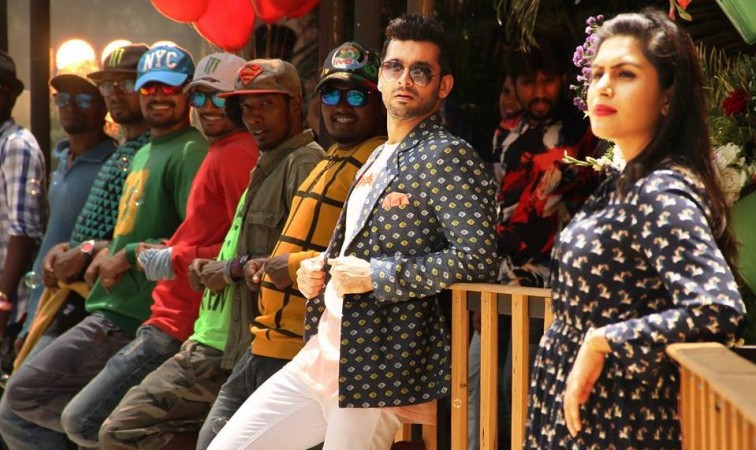 Sonu Gowda, who had quite a successful 2018 with three interesting movies Gultoo, Onthara Bannagalu and Kaanoorayana is back with her latest outing, Fortuner. She has a strong role in the movie which has Diganth in the lead role.
"I play the role called Anusha, an employee in an IT firm. She is an independent woman and an egoistic girl. What happens to her life when she marries a cool guy is the crux of the story," Sonu Gowda begins. The idea portrayed by the movie says one should live for passion and for one's own self without being preachy.
When asked about her role in the film and whether she did special preparations for it, Sonu Gowda reacts," No. It is because I am good at fighting (laughs). On a serious note, I have not played such a character before and when the director gave me the choice to pick one between the two characters (other being Swathi Sharma's role), I grabbed this role with both hands as pulling off the other role would be easier for me compared to this role,"
"Even the director insisted on taking Anusha's character though it had a negative shade," says Sonu Gowda. However, the actress feels that one needs to accept such challenging roles for the growth of one's career.
The actress was supposed to work with Diganth earlier in a few movies, but the projects did not materialise. "I have been a very good friend of Diganth. We were very close to doing a movie. The project was shelved after we did photoshoots and rehearsals for the film," she recalls.
Talking about the challenges, Sonu claims, "It was a challenging role for me and doing romantic scenes with a friend was the difficult part of the role. But we enjoyed it and we were pulling each others' legs over such scenes in the later days. We totally had fun together working in Fortuner," the actress adds.
On asking her to share any memorable incident, Sonu recalls the incident when the entire set showed their admiration for her performance in one particular scene. "There was one scene where I get angry and throw whatever was there in front of me. The set usually has a noisy environment after a scene, but there was pin-drop silence after that shot. Everyone was staring at me and it looked as though they were surprised to some extent."
"Later, a man from the production team gave me a compliment for my acting, which I considered to be very special. This is because it is these workers who notice each and every other actors' work closely. They work on hundreds of films, while we do 2-3 films in a year," the actress narrates.
After Fortuner, which releases on January 4, she will be seen in a few movies that include Chambal, I Love you and Shalini IAS.