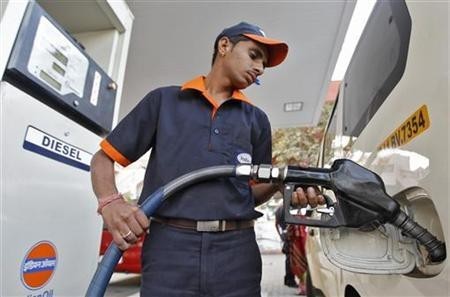 Indian Oil Corporation (IOC) has hiked the prices of diesel by one percent or ₹0.45 per litre (excluding VAT) with effect from Saturday.
It is the third diesel price hike in three months. IOC had earlier increased diesel price by ₹0.45 per litre (excluding VAT) in January and February, citing constant increase in international oil prices.
"Indian Oil Corporation Ltd. has decided to increase the Retail Selling Price of Diesel w.e.f midnight of 22nd /23rd March'13 by ₹0.45 per litre (excluding VAT) in line with the flexibility given by the Government to OMCs to revise the Diesel prices," said a statement from IOC.
"Retail HSD prices were last revised upward by ₹0.45 per litre (excl VAT) on 16th Feb'13. After the current increase the under-recovery on Retail HSD shall stand at ₹8.19 per litre," it added.
The government of India deregulated gasoline prices in June 2010, giving the state-owned oil companies the option to regulate the prices of oil in accordance with international prices. It also allowed oil retailers to hike the price of subsidised diesel by 1 U.S. cent a litre every month.
With the latest hike, diesel will cost ₹48.67 per litre in Delhi.