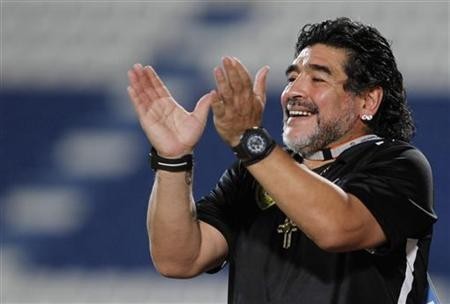 Diego Maradona has taken another swipe at his great rival Pele, saying he and not the Brazilian is the real Player of the Century.
FIFA awarded both players with titles of player of the century way back in 2000, with Maradona winning the people's choice award after garnering 53 percent of the votes in an internet-based poll.
Pele got the nod over Maradona after the Brazilian legend topped a poll of FIFA's "Football Family" with both of them given the recognition at the same time.
Maradona, who has never quite seen eye-to-eye with Pele, believes only one award really matters.
"In 2000 I won the Player of the Century award thanks to the people," he said. "Pele was second.
"He also came second behind (Formula 1 great Ayrton) Senna as Brazil's greatest sportsman.
"The award that FIFA gave Pele isn't worth s***."
Suggestions have been that Pele lost out to Maradona due to the fact that the then internet-based voters knew and had seen a lot more of Maradona than Pele, as the former played in the 1980s and 1990s, with the latter at his best during the late 1950s and 60s.
The argument over who is the better player can go on for centuries, with both quite remarkable in their own right. And as FIFA showed in 2000, it really is quite difficult to separate the two of them when it comes to footballing ability and achievements.
Just don't tell that to Maradona, though, with the Argentine also launching a scathing attack on "old" FIFA.
"The FIFA directors are all over 95 years old" he said. "The people there are so old that they cannot even drive a car, so how do they lead the world of football?"