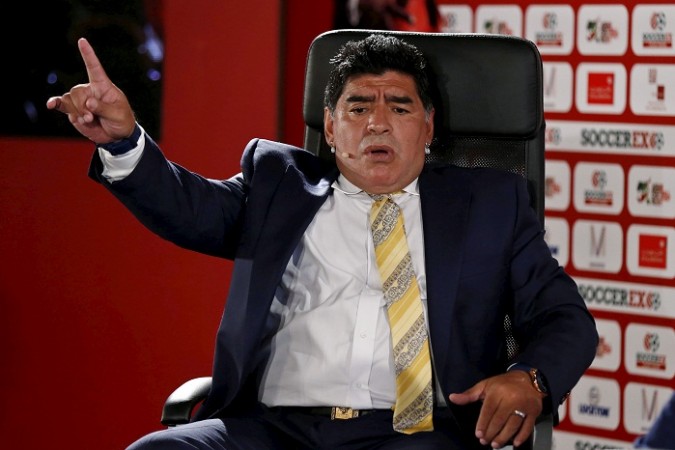 After Venezuela president Nicolas Maduro said Diego Maradona should be given the reins at Fifa following the resignation of Sepp Blatter, the great man himself has claimed he is in line to become a vice-president of football's governing body if Prince Ali Bin al-Hussein becomes the new chief.
Prince Ali was the only man who contested against Blatter in the recent elections, and even if the Jordanian lost to the Swiss comprehensively, he is again expected to throw his hat into the ring when fresh elections are called in a few months' time.
Maradona claims he will be a part of the entourage if Prince Ali is elected the new Fifa president.
"If Prince Ali wins [the elections], I have the opportunity to become a vice-president of Fifa," the legendary footballer said on "The Football Show" in Argentina. "If I get the chance, I'll clean everything [at Fifa]."
Maradona also did not hold back on Blatter's decision to relinquish his role as the president, despite just getting elected for a fifth term.
"I think Blatter was scared that the FBI and Swiss police would come and arrest him at Fifa headquarters," he added. "He was afraid to leave Fifa in handcuffs."
The 54-year-old, widely regarded as one of the best to ever play the sport, also criticised Michel Platini, the Uefa president and another candidate tipped to take over from Blatter.
"Before I respected him, but then I realised that his word is worth less than Bernardo, Zorro's friend."
Following Blatter's surprise decision to step down last week, Maduro was one of the first to make a case for Maradona or a former footballer of his ilk to take over at FIFA.
"The president of the international football federation should be Diego Armando Maradona or someone like him," Maduro said during his weekly televised address.
"Diego Armando Maradona has been denouncing FIFA for decades, they've threatened him and they've laughed at him."