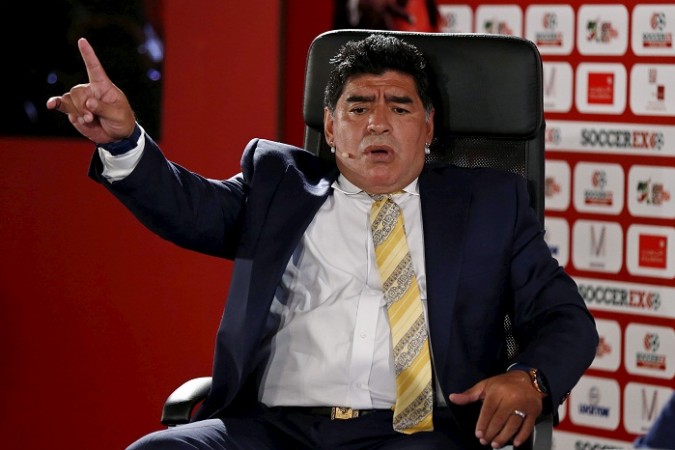 Diego Maradona – Fifa president.
That could very well be reality soon, after the Argentine legend put his name up for the president's post of football's governing body.
Maradona has been a staunch critic of the manner in which Fifa has been run by Sepp Blatter, and apparently the Argentine has decided to take the matter into his own hands by standing in the elections which will be held in a few months' time.
"He told me he was going to run for president of Fifa and authorised me to inform," Uruguayan journalist and a friend of Maradona Victory Hugo Morales posted in Spanish on his twitter feed.
"'I am a candidate' were the two words Diego Maradona used to answer me when I consulted him about the nomination for the presidency of FIFA."
Blatter said he is stepping down as Fifa president, days after winning a fifth term to the post, and a decision over when the new elections will be held is expected soon. It is believed the elections are likely to take place late this year or in early 2016.
Maradona, interestingly, had himself claimed he will be a vice-president of Fifa, if Prince Ali, who is expected to stand in the elections again after losing to Blatter the first time, is elected as the president.
"If Prince Ali wins [the elections], I have the opportunity to become a vice-president of Fifa," Maradona said on "The Football Show" in Argentina earlier this month. "If I get the chance, I'll clean everything [at Fifa]."
Following Blatter's announcement that he would step down, Venezuela president Nicolas Maduro had named Maradona as the perfect candidate to replace the controversial Swiss.
"The president of the international football federation should be Diego Armando Maradona or someone like him," said Maduro during a weekly televised address.
"Diego Armando Maradona has been denouncing FIFA for decades, they've threatened him and they've laughed at him."