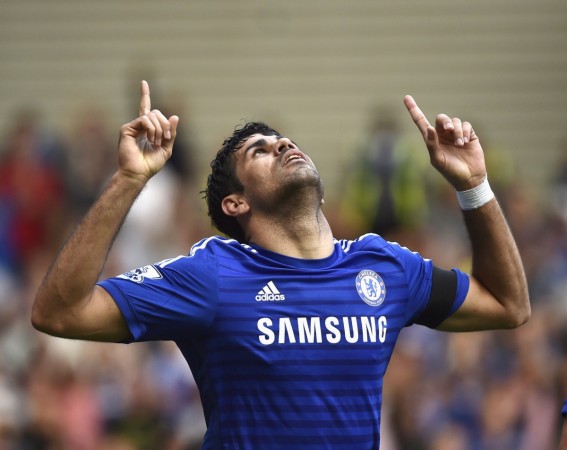 Chelsea striker Diego Costa has said that he will not be able to maintain his scoring form throughout the season, even though he admits that he has exceeded his own expectations with his current form when it comes to scoring goals.
The Spain striker, who arrived at Chelsea from Atletico Madrid at a reported fee of £32 million, has been able to fully justify his price tag as well as his scoring reputation, netting 7 goals in 4 Premier League fixtures this season.
However the Brazil-born striker, who netted 27 goals in 35 La Liga appearances for Atletico Madrid last season, says that his form will not go on forever.
"I try to play in the best manner, and hopefully things will continue like this, but there will be a moment when I cannot score. That is football," Costa said according to ESPN.
"Every striker has their way of playing and their strengths and a different team behind them. That is very important. If you do not have the team behind you, then you can't do things on your own. It all depends on the team."
Despite admitting he is adapting well to the Premier League, Costa insists that Chelsea's good start to the season has resulted due to the combined effort of the whole team.
"I am adapting very well, although it's not just me. The key is the group that we have. It is like a family. The squad and all the people around the team are united in our cause," he added.
Meanwhile Chelsea boss Jose Mourinho praised Costa's spirit, saying that the 25-year-old striker's persistence to play in each and every game has helped him rise above his persistent fitness issues.
"He was a risk and a doubt before Everton [two weeks ago], a risk and a doubt before Spain's game [last week], and a risk and a doubt before this game [against Swansea], and he played all three," stated Mourinho, according to ESPN.
"The most important thing of a player's character is what affects his performance as a player. Nobody can stop him. I've tried. I tried to be sure, but he keeps going."
"It is not about the modern player, it is about the modern society, where people tell them to be selfish, in the sense of themselves first and the team second. But with Diego it is, 'The team first - they need me - and me second. I am ready to go for the team.'