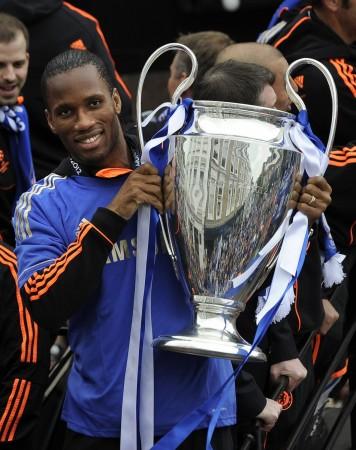 The reports that Ivory Coast star and Chelsea striker Didier Drogba has decided to leave Chelsea has shocked and surprised football lovers around the world, as it came just a few days after scoring the winning goal for his team in the recently concluded Champions League.
France Football magazine reported that Didier Drogba, who helped Chelsea win the Champions League title by scoring two goals against the Bayern Munich in the final on Saturday, told his team-mates that he would leave Chelsea.
"We will no longer be together next season," France Football quoted Drogba as saying.
"As I decided to leave, I wanted to tell them straight in the eye. Except that I could not do it. They made me crack. Even though it's been three years since I said I wanted to leave, I find it hard to admit that it's over with this club - especially as I did not feel like this. But I could not see myself sitting on the bench to watch others play when the club plans to set up a new team.
"So that's it - I am preparing for my leap into the unknown. It's going to be another adventure," he added.
It's also reported that Didier Drogba might join his former Chelsea team-mate Nicolas Anelka by signing for Chinese club Shanghai Shenhua.
However, the agent of the footballer denied the reports that its client is leaving Chelsea, where he has been playing since 2004.
Didier Drogba to Visit India
Meanwhile, Didier Drogba is scheduled to visit India next month for the grand finale of a football event. The winning team will be coached by the star footballer before they face the Indian Cricket Stars for a game of T20 Football at the Grand Finale.
"To take the excitement around our grassroots initiative, T20 Football to the next level, we are proud to bring one of the world's most exciting footballer, Didier Drogba to India," IBNS quoted organiser Homi Battiwalla as saying.
"Over 448 teams have played the 20-minute knock-out matches over the last few weeks. The winning teams across cities are now gearing up for the national finale scheduled to take place on 17th June in New Delhi," he added.
T20 Football is a revolutionary new format for youngsters, which combines the excitement and fun of T20 style of playing cricket with the speed, thrill and spirit of football.