The Grand Tour will screen the 11th episode of season 2 -- Feed the World -- on Amazon this Friday. This will be the first special episode of the season where the presenters, Jeremy Clarkson, Richard Hammond and James May, go an incredible journey across African country Mozambique.
While Clarkson chooses a Nissan pick-up and May drives an old Mercedes 200T in the latest episode, Hammond has decided to go on a motorcycle. Interestingly, the maker of Hammond's choice is an Indian company.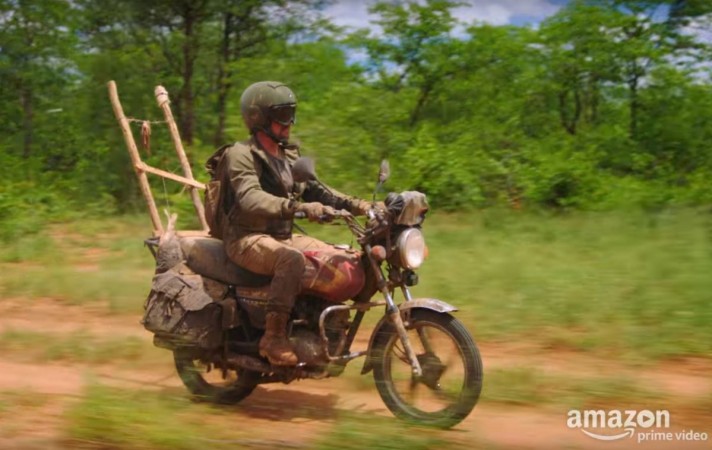 Popularly known as Hamster, Hammond's two-wheeled companion in the African journey is TVS Star HLX 125. While no one requires introduction on Chennai-based TVS, the third largest two-wheeler manufacturer in India, some may not get the bike name Star HLX 125. TVS Star HLX 125 has been developed with needs of the African market in mind and it is not sold in India.
The Star HLX 125 is based on the TVS Max 4R that was recently on sale in India. While the Max 4R was powered by 110 cc engine, the HLX 125 as the name suggests is fitted with a 125cc EcoThrust engine. The mill develops 11bhp of power. Despite being a low-cost commuter bike, the TVS Star HLX 125 is equipped an electric starter, alloy wheels, long seat and others.
Coming back to the Grand Tour, the trailer shows Hammond falling a lot from the bike. Remember, Hammond has already crashed a Rimac Concept One, electric sportscar during the filming of the series last year and it is part of episode 1. Hence, the teaser depicting many falls of Hammond from the bike made some viewers comment, "So, Hammond can't ride a bike either."
In the Mozambique special, the three notice that people in the coastal regions of the country are well-fed on the bountiful supplies of fish from the ocean, while those in the interior exist on the brink of hunger. Hence they decided to feed the people in the interior by transporting fish to them with their choice of vehicles.