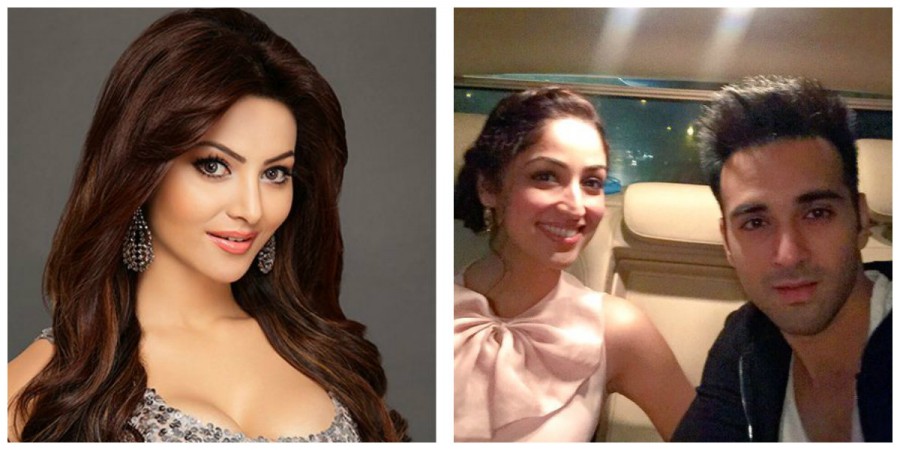 While Pulkit Samrat and Yami Gautam have never confirmed their rumoured relationship, "Sanam Re" actress Urvashi Rautela has apparently done it for them. During an interview, Urvashi said Pulkit and Yami were comfortable kissing in "Sanam Re" as the two are a "couple".
Urvashi said she and Pulkit faked a lip lock in the film as they were not comfortable kissing each other. However, she feels it is okay for Pulkit and Yami to kiss on screen and Urvashi has a reason to say so.
When Bombay Times asked her about reports saying Pulkit was comfortable kissing Yami but not Urvashi, the Miss India-Universe 2015 said: "I didn't want to kiss Pulkit either. There's a scene on a boat, and the way it has been shot, it looks like we are kissing, but we aren't. Pulkit and I have faked a kiss. But his kiss with Yami is real.
"I am not very comfortable kissing on screen. I may wear a swimsuit for camera, but in real life I am shy and an introvert. So, I was not offended by his decision. About Pulkit kissing Yami, it's okay because they are a couple," she added.
However, when asked if they are a couple in real or reel life, Urvashi laughed and said: "I have no idea about it but I also didn't want the kiss."
Rumours of Pulkit and Yami's relationship have been doing the rounds ever since the actor's separation from his wife Shweta Rohira made headlines. There was buzz that Pulkit and Yami have become more than just friends as the two used to spend a lot of time together. However, Pulkit recently said rumours of his and Yami's affair were triggered intentionally to help the promotions of "Sanam Re". "The rumours were started only to promote the film. And we are very happy because it's helping the movie. I am glad the promotions are going well," Daily Bhaskar quoted Pulkit as saying.