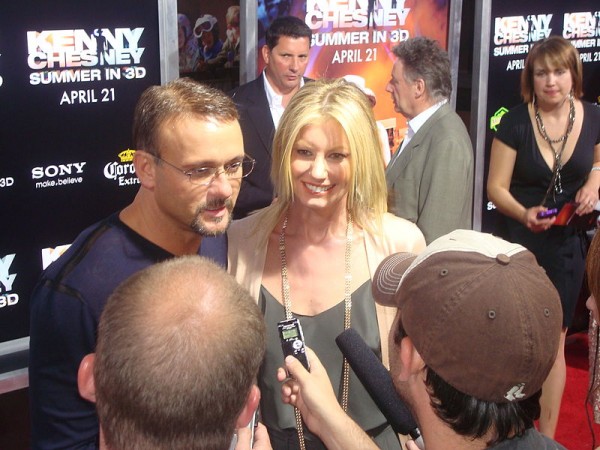 Tim McGraw is accused of slapping a female fan during a concert in Atlanta, and the footage of the incident has since attracted a number of views from fans of the country musician.
The incident took place during McGraw's concert at Aaron's Amphitheatre at Lakewood, when a female fan tried to get too close to the singer.
The video of the incident posted on TMZ shows a blond female fan slapping his leg and then proceeding to grab his groin, as McGraw walks down the stage singing "Truck Yeah."
McGraw is seen hitting her across the fan's head, following which security officials escorted her out of the crowd.
A representative for the singer told TMZ that McGraw "swatted" rather than slapped the fan so as to keep his jeans from being torn.
"Tim was singing out in the audience and someone firmly grabbed onto his leg and wouldn't let go as he was moving through the crowd," the representative told TMZ.
"He instinctively swatted to try to keep them from ripping his jeans (which they succeeded at doing!), and so he could get to more fans who could slap hands with him before the end of the show."
This is not the first time a fan has attempted to get too close for the singer's comfort.
In 2007, a female fan grabbed McGraw's crotch as he greeted fans during a concert with his wife, Faith Hill.
Interestingly, Hill came to her husband's defense and even chastised the fan for grabbing her husband.
"Somebody needs to teach you some class, my friend," Hill can be heard telling the fan. "You don't go grabbin' somebody else's, somebody's husband's [private parts], you understand me? That's very disrespectful."
Addressing the incident, Hill later told Ellen DeGeneres that McGraw was livid, and that she initially decided to ignore the fan until "gave me this look like there's nothing you can do... there's nothing you can do."
"He basically just reprimanded her so I thought... she doesn't need any more attention and I'm going to not deal with it," she explained, according to People.
"I'm from Mississippi, so what I really wanted to do is kick her you-know-what. You know what I'm saying? I mean c'mon. I mean, how disrespectful! And plus, it's like sexual harassment. I mean if a man was to do that to a woman? I mean c'mon."