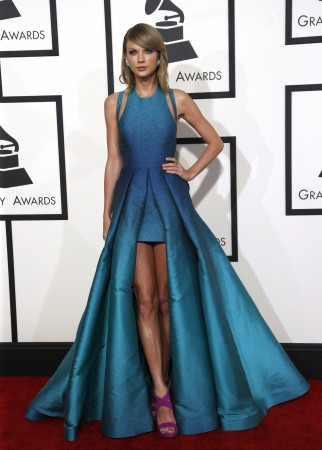 Calvin Harris' split from girlfriend Aarika Wolf after just seven months of dating has caused many to wonder if the couple decided to part ways after he allegedly flirted with singer Taylor Swift at the BRIT awards last month.
And although the two did split around the time Harris was seen hanging out with Swift, the "Blank Space" singer might not be to blame, according to The Sun.
"Calvin and Aarika split around the time of the Brits last month. They were both into each other for a long time but it just didn't work out and they'll stay friends," a source told the publication, according to HollywoodLife. "Calvin is always really busy and is constantly travelling around to DJ gigs so he's happy to be single for a while."
Harris and Swift attracted media attention after they were spotted holding hands at a VIP party after the award show. Harris is supposedly keen to date Swift as well as collaborate with her for a new song.
However, a source told HollywoodLife that his interest in her is purely professional. "Calvin doesn't just want to date Taylor. He's desperate to make sweet music with her. With his beats and her pop melodies, Calvin thinks they could produce a number of big hits together, and he's always been a big fan of Taylor's work."
But it might not be an easy task to lure Swift, as a new report claims that the singer has her eyes on ex boyfriend Harry Styles, who has called it quits with girlfriend Nadine Leopold. Reportedly, Swift is secretly happy that the One Direction singer is single as she never got over Styles.
"Taylor is secretly so happy that they broke up," yet another source told HollywoodLife. "She still has feelings for Harry and the fact that Nadine broke up with him kind of gives her pleasure. Now he knows how it feels. She never thought Harry and Nadine were right for each other anyway," the source said.