Wrestler Vishal Kumar was electrocuted on Tuesday afternoon at Jaipal Singh Stadium in Ranchi, which was waterlogged during the accident.
Vishal, who was the sole breadwinner in a family of six that includes his four sisters, was visiting the Jharkhand wrestling association office, which functions from the stadium. The 22-year-old wrestler came in contact with a live wire that was hanging in the washroom.
He was found lying unconscious in the inundated washroom by a fellow wrestler, who took him to a local hospital. However, Vishal breathed his last en route.
"A case of unnatural death has been registered, but we will probe why a live wire was hanging loose in the bathroom," SN Mandal, an officer of Kotwali police station in Ranchi told The Telegraph.
Mandal also expressed surprise at how the stadium, which according to him is "run-down", was able to host association offices. He also revealed some athletes lived at the building, which as per the report is a picture of utter neglect.
"It is run-down and risky, particularly in the rainy season, when the premises are often waterlogged. I am told some athletes live there too. I wonder how," the officer added.
The state association has announced Rs 1 lakh as compensation to Vishal's family. It has also urged the state government to announce Rs 10 lakh as additional compensation, according to reports.
Vishal reportedly took to wrestling in 2005 and achieved his career best when he finished fourth in the senior Greco-Roman 74kg nationals held earlier this year in Uttar Pradesh.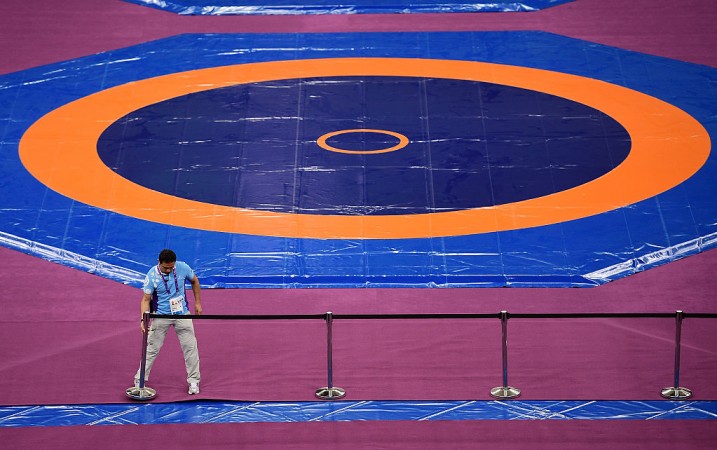 Municipal corporation to be blamed?
Secretary of Jharkhand wrestling outfit Bholanath Singh, though blamed the Ranchi Municipal Corporation (RMC) for the tragic accident.
"The RMC has been claiming renovation of the stadium for years, but changes are far from visible. The ground floor is almost always flooded in monsoon," Singh said.
He also promised that a few "poor" athletes who were living at the premises after not being able to find proper accommodation will be shifted.
'Risky building'
An official of the state association revealed the RMC had labelled the building risky and Kumar's death was a result of negligence from all quarters.
"The building has been labelled risky (by RMC), but players still live there and offices function. Sustained negligence has cost a life," the official told The Telegraph.
Ranchi deputy mayor Sanjeev Vijayvargiya confirmed the RMC had a "multi-crore" plan to renovate the stadium and that they will take appropriate action after the "eye-opening" fatal accident.
Meanwhile, state sports director Ranendra Kumar has blamed the wrestling outfit for not seeking a safer place, while other sports organisations were allocated space according to their demands.