North Korean hackers seem to have a found a new playing ground: Sony Pictures.
It was reported that North Korea may be involved in the five unreleased movies of Sony Pictures getting leaked online on Monday.
A senior US official had confirmed to nbc news that several law enforcement agencies are looking into North Korea's alleged involvement into the hacking of Sony Pictures' online networks and the illegal dissemination of the company's films.
Now, Bloomberg reports that according to two persons with knowledge of the investigation, some of the destructive malware used to disable systems and destroy data contained Korean language code.
It is also understood that many aspects of the breach bear close resemblance to attacks that wiped out the data stored in computers of South Korean banks and broadcasters in March 2013.
John Hultquist, senior cyber espionage practice lead at iSight Partners, a Dallas-based cyber security company has also expressed his belief in the alleged involvement of North Korea. iSight has analyzed several destructive attacks linked to North Korean hackers, Hultquist said and added, "We consider that the theories regarding the attribution to North Korea are credible".
An upcoming Sony Pictures' action-comedy, "The Interview" starring Seth Rogen and James Franco features a CIA plot to assassinate North Korean leader Kim Jong-un, and it is believed that the hacking may have some link to that.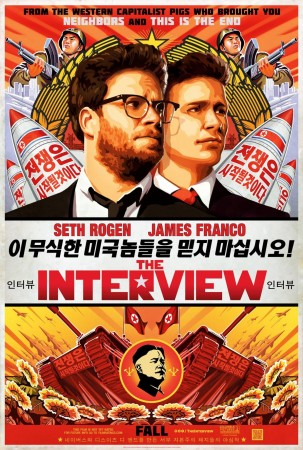 In the movie, Dave Skylark, played by Franco and his producer Aaron Rapoport, played by Rogen, on realising that North Korean leader Kim Jong-un is a fan of their tabloid TV show "Skylark Tonight", decide to interview him. However, their plans are foiled when the CIA recruits them to assassinate Jong-un.
The movie, which is set for a Christmas release on 25 December, was dubbed by a North Korean official as a symbol of the "desperation" of American society during an interview with The Telegraph. Rogen retaliated to the comment with a nonchalantly funny tweet:
Apparently Kim Jong Un plans on watching #TheInterview. I hope he likes it!! http://t.co/5VrsgYlydE

— Seth Rogen (@Sethrogen) June 20, 2014
DVDRip versions of unreleased Sony movies include big screen revival of the Broadway classic "Annie" starring youngest Oscar nominee Quvenzhané Wallis, British biographical drama "Mr Turner" starring Timothy Spall; "Still Alice" starring Julianne Moore and Brad Pitt starrer "Fury", which are playing in theatres now, were leaked online on 27 November.