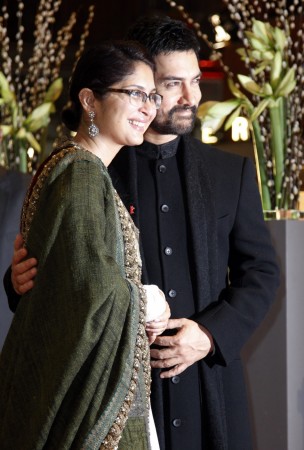 Superstar Aamir Khan's better half Kiran Rao was reportedly offered Rajkumar Hirani's "P.K."
Rao, until now has worked mostly behind cameras as Assistant Directors for "Lagaan", "Swades", "Monsoon Wedding" and "Saathiya". She turned as a director with "Dhobi Ghat" and has films like "Taare Zameen Par", "Peepli Live", "Jaane Tu... Yaa Jaane Naa" and others to her credit as a producer.
But now it has emerged that the star wife was offered a small role by ace director Hirani in his upcoming film "P.K." Rao is said to have been offered the role of a nautch girl, a source close to the film's unit revealed to The Times of India.
The multi-talented Rao was initially quite excited about the offer. She is said to have sat for the narration and even offered to volunteer for the part. And Khan too had encouraged his pretty wife to try her hand at acting. But eventually, the 40-year-old turned down the part.
It is assumed that Rao's difficulty in multi-tasking her professional and personal life has led to her refusal of the "P.K" part. The star wife is a mother of their two and half-year-old son Azad Rao Khan.
The film's spokesperson, however, refused to comment on the matter.
If Rao had given nod to "P.K," it would have been her second role on screen. Not many know that she had appeared for a brief role in Khan's hit film "Dil Chahta Hai" (2001).
Hirani directed "P.K" as reported recently, will have Khan in double roles. He will be seen playing as an alien and a God in the film. The film also stars Anushka Sharma, Sanjay Dutt and a cameo appearance by Sushant Singh Rajput. The film has set 19 December as its release date.