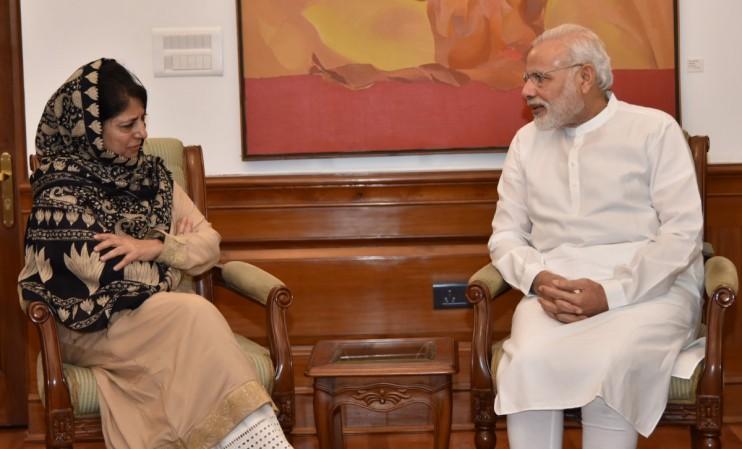 Contrary to the popular belief, a majority of the Kashmiris saw the breakup in the BJP-PDP alliance coming. The cracks in what many called 'the unholy alliance' were visible as the two parties locked horns over issues ranging from an increased radicalisation, implementation and extension of the Ramzan ceasefire, the inquiry into the Kathua gangrape case and resumption of talks and trade with Pakistan.
The recent ceasefire violations and killing of senior journalist Shujaat Bukhari proved to be the last straw leading to the culmination of the three years and three months-long PDP-BJP rule in J&K.
For many political veterans based in the valley, the BJP's move of pulling out of the alliance was a smart one, considering there is a general election coming up next year and the party wants to retain its locus standing among its electorate.
The PDP, however, looks visibly embarrassed especially in Kashmir after none of its demands including the resumption of ties with Pakistan, the extension of Ramzan ceasefire were met.
"The PDP should in fact have been the first party to withdraw the support from the government, which could have been a face-saver for the party in Kashmir. The increased militancy in Mufti's home constituency of South Kashmir and the meagre participation of people in the parliamentary elections in Anantnag from where Mehbooba's brother Tasaduq Mufti won was an indication of PDP's losing ground in the valley," a senior Congress leader wishing anonymity told International Business Times, India.
Senior journalist Yusuf Jameel tweeted about the development, "It is but naive to expect a great ending when you make a bad beginning. We all had had to watch a bad movie. Its climax is on expected lines yet interesting."
Many in valley attribute the never-ending circle of violence, mass unrest and increased killings to the PDP's mishandling of Kashmir situation.
"It was never expected of BJP to understand the ground situation in the valley since the party never had the mandate from there. But PDP which is Kashmir centric party clearly overlooked the growing resentment against the government and clung onto power further losing its electorate," Hassan Mir, a Srinagar-based banker said.
As the state heads for Governor's rule, big political developments are expected in the valley in the coming days. There is, however, a ray of hope that with an end of the PDP-BJP rule, the growing anger of the common people in the valley against the administration may die down which could lead to diminished violence in the region.