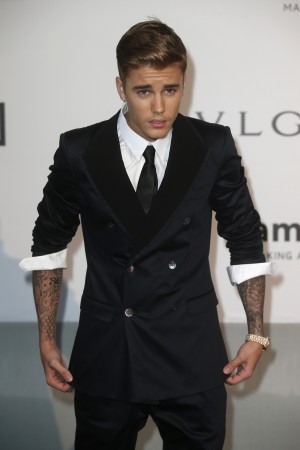 The fight between Justin Bieber and Orlando Bloom is the talk of the town at the moment. It was reported that they got into a brawl over Miranda Kerr but latest report suggested that the altercation started after Bloom talked about Bieber's ex girlfriend Selena Gomez.
For those who are not aware, TMZ reportedly captured Bieber and Bloom fighting fight outside the Cipriani restaurant on the Spanish Ibiza island.
"Justin hates him because he heard that Orlando has been telling people he got with Selena as a payback to Justin, that really pissed Justin off. Orlando has been talking smack about Justin to everyone for the past couple of years, so this was pretty much going to happen eventually, this is just the first time they've been in the same room," a source told Hollywoodlife.
Gomez and Bloom were once spotted together at a Chelsea Handler show in April 2014. It is being said that Bieber is still very protective of Gomez and does not like anyone to talk trash about her.
"Whatever he's done to Selena, Justin's very protective of her. He doesn't like the thought of Orlando using her in some sick game," added the source.
However, fans might wonder why Bieber would care about Gomez so much now, as he has allegedly dated other women. Even Gomez was seen spending her birthday in St Tropez without him.
However, sources said that Bieber still loves Gomez.
"He's still in love with her and he's been trying to get her to talk to him again," the source revealed.
Gomez and Bieber have been going through a roller coaster relationship. They could not work out their differences despite reuniting twice since their break-up.
Meanwhile, Gomez is said to be embarrassed after Bieber got himself into trouble again.
"[Selena] knows about this latest incident with Orlando and she hates every minute of it," a source close to Selena told the Website. "She is embarrassed for [Justin]. Selena is basically desensitized with what Justin does since he is always in trouble. He is immature and she expects something bad to happen with him everyday"
If this source are anything to go by then Gomez has clearly moved on from Bieber and doesn't seem to be in mood to rekindle the romance.
It may be recalled that Bieber has been linked to Bloom's ex-wife Miranda Kerr for the last couple of years. Their closeness had been cited as the reason for Bloom's breakup with his wife in 2013 though Kerr had denied having affair with the "Baby" singer.
Interestingly, the altercation between Justin Bieber and Orlando Bloom entered social media with one Mr Justin Bieber posting a photo of Miranda Kerr in a bikini on his Instagram page before deleting it a few minutes later. He went on to post a picture of Bloom crying and it is not pulled down till the time filing this report.