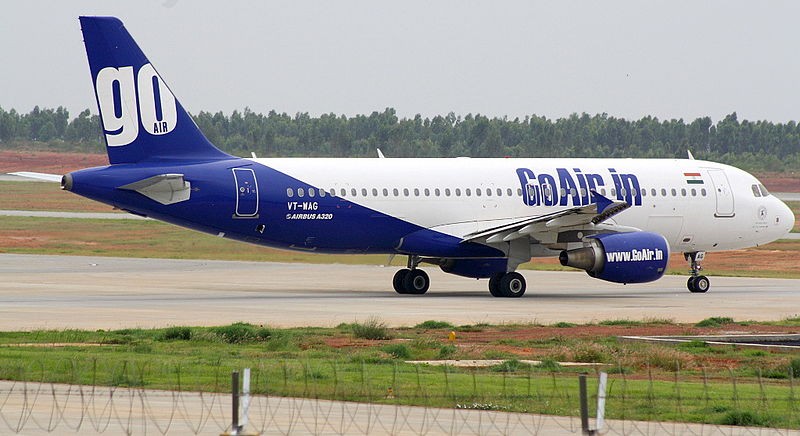 There was chaos at New Delhi's Indira Gandhi International Airport after passengers of a GoAir flight alleged that the captain of the aircraft had threatened to crash a Bengaluru-bound flight, a report said.
However, GoAir has refuted the allegations in a statement. The Times of India report did not mention the date of the alleged incident.
The report said that the pilot of the flight G8113 (New Delhi to Bengaluru) got irked after passengers took his pictures as he walked toward the plane and told him that they would post them on social media.
"Boarding began at 5.10 am and was completed soon," TOI quoted a passenger as saying. The flight was to take off at 5.50 am but it got delayed due to which the passengers became annoyed.
"Till 7 am, we kept waiting in the aircraft to take off. There was no announcement and many passengers got angry and started shouting," the passenger said.
A few passengers who went to the aerobridge started taking pictures when the pilots finally made an appearance and started walking toward the aircraft. They allegedly told the pilots that they will share the pictures on social media, which is when the captain allegedly made the threat.
"One passenger went inside Airbus A-320 and told other flyers that the pilot had threatened to crash the plane if the videos were put on social media," TOI quoted an anonymous source. "This led to a scare in the plane and demands for the crew to be changed."
The report said that three passengers refused to fly with the same pilots and got out of the plane after the crew informed them that a replacement was not possible.
"Meanwhile, the pilot apologised on the public announcement (system) to flyers and said that there was a miscommunication and that he was late due to administrative issues," a passenger said.
The plane finally took off at 8.40 am and landed in Bengaluru at 11.20 am.
Here's what GoAir said:
The Airline has denied the allegations.
"GoAir strongly refutes any such allegation. After conducting due diligence and inquiry into the matter, (we) have ascertained that no such statement has been made by the Captain and this has been corroborated by ground and on-board staff," a GoAir spokesman told TOI.
He also added that of the checked-in 185 (passengers) and two infants, only 182 and the two children flew to Bengaluru
GoAir, a low-cost carrier based in Mumbai commenced operations in 2005. It operates in 23 cities across India.