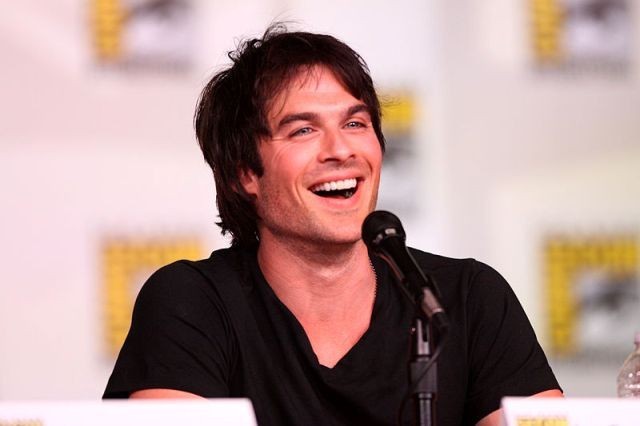 "The Vampire Dairies" character Damon Salvatore died in the series' season 5 finale, due to Ian Somerhalder's request, suggests new reports.
Somerhalder played Salvatore in the popular supernatural series. Buzz is that the actor wanted to get away from the professional space he shared with ex-girlfriend Nina Dobrev.
Somerhalder may have requested an early release from the show, to avoid the awkwardness of working with Dobrev after the breakup, and also to focus on his blossoming film career, reported Celebrity Laundry.
"Although the two tried to remain professional throughout all the awkwardness, they were never fully comfortable with each other after their split - and it shows in their scenes together. Producers didn't want to risk jeopardizing the fandom even further, and when Ian requested that his character be killed off early, they didn't hesitate to jump ship," a source revealed to the website.
Somerhalder and Dobrev stepped out as a couple at the 2011 MuchMusic Video Awards, and sealed their romance with a kiss at the Coachella music festival in April 2012. The two were spotted taking vacations together and going on dates, before they headed to spiltsville in May 2013.
Since then, they are understood to have tried to maintain a professional relationship for the sake of the show.
When Salavtore died in "The Vampire Dairies" season 5 finale, the fans of the sereis were quite disheartened. Somerhalder took to Twitter to apologize for his character's sudden demise.
"So very sorry about Damon you all... Love, Ian," the actor posted on his Twitter account.
Meanwhile, it is being rumored that Somerhalder will make a comeback in "The Vampire Dairies" season 6 but only as a guest star.
"I think it means there's a mystery attached to how the show ended. Did they die? Did they find peace? Are they still on the Other Side? Does the Other Side still exist? If not, where the hell are they? And will they ever come back? Certainly, we will see Ian [Somerhalder] and Kat [Graham] again, but where and in what context? That's part of the mystery of Season 6," Julie Pelc, executive producer of the show, stated, hinting Somerhalder's return, while speaking to TV Line.
Somerhalder will be seen next in a science fiction film, titled "The Anomaly". The film tells the story of a former soldier, who is held hostage in the back of a van and has little time to understand how he got there.
The film is directed by Noel Clarke, and co-stars Clarke, Brian Cox and Alexis Knapp in important roles.