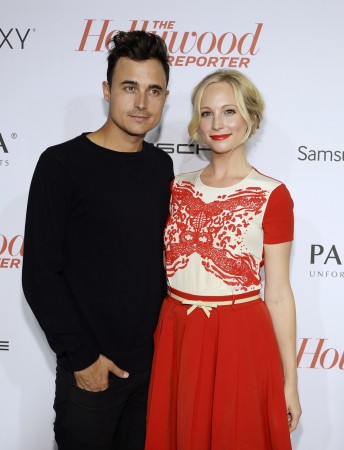 Actress Candice Accola, who plays Caroline Forbes on "The Vampire Diaries", married her fiance, The Fray's Joe King, in a private ceremony attended by her co-stars over the weekend.
While Paul Wesley, Kat Graham, Michael Trevino, Nina Dobrev and creator Julie Plec attended the nuptials, according to E!News, fellow actor Ian Somerhalder stayed away from the event, sparking rumours that his uncomfortable relationship with Dobrev might have been a reason.
But Somerhalder quickly put these talks to rest through an Instagram post, saying that he was held up with the shooting of "The Vampire Diaries" season 6.
"Candace and Joe- my brother, my sister. What a magical day this is for both of you. From the eye of the storm I am still with you in spirit! I am missing my home state of Louisiana and my city, the great city of New Orleans," Somerhalder wrote.
"Sending you so much love from my shoot in ATL- i'm working hard & I wish I could be there physically, but we have the rest of our lives to celebrate. I love you guys! So. Much," he added.
Accola also took to her Instagram account to post an official wedding picture, where King is seen kissing his new bride. "Officially Mr. and Mrs. King! Best night ever!" she captioned the picture.
King's Instagram post showed him embracing his wife during a slow dance at their reception as their guests look on. "My wife, she makes me wanna dance," he wrote.
This is Accola's first marriage, while King shares daughters Ava and Elise with his ex-wife Julie. He popped the question to Accola in May 2013, and she immediately shared the news with her fans through a photo of her engagement ring.
"Cheers from the future Mr. & Mrs. Joseph Aaron King!" she captioned the picture, and immediately fellow actor Dobrev chimed in about the proposal writing: "Dying right now! So excited/thrilled/happy/hyperventilating over your engagement! Match made in heaven!" she tweeted at the time. "What colors are we thinking for the bridesmaids dresses? Because yellow isn't a good color on me."
Accola has also starred in her husband's band's 2013 music video, "Love Don't Die."