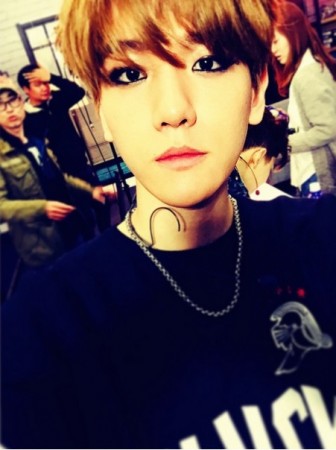 Byun Baek-hyun a.k.a Baekhyun, a popular member of South Korean-Chinese boy band EXO, has been under scrutiny for his new look.
Speculations are rife that the young Korean heartthrob has undergone a face-lift surgery for physical enhancement. But many of his followers are not ready to accept the recent buzz and expressed their concern over the weight lose.
The fans of Baekhyun compared a few of his old photos with that of the latest once and noticed that the K-pop idol looks more mature in his new look. They believe that it is due to the extreme diet habits that he follows to lose weight.
Meanwhile, a few of his admirers stated that the defined jaw-line and the prominent V-line on his face are caused due to natural reasons as he is growing up.
On the other hand, some of his fans just appreciated his look and wrote (via Koreaboo), "Baek is such a beautiful boy before, after and forever".
This is not the first time Baekhyun has been under the microscope for a change in his looks. However, last year, an admirer had also come up with photographic evidence claiming that the idol had never enhanced his looks with plastic surgery.