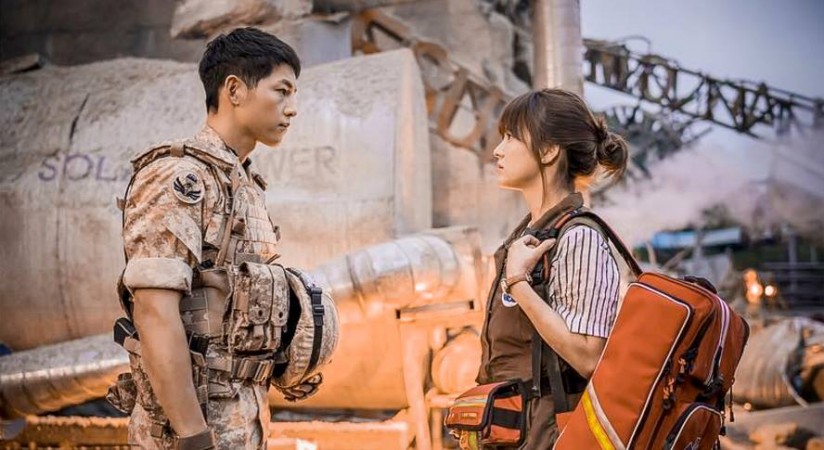 "Descendants of the Sun" actor Song Joong Ki was in attendance at the Seoul Drama Awards 2016, where he spoke about his rumoured girlfriend Song Hye Kyo and her generous gift to him during the filming of "Battleship Island."
As reported earlier, Song Hye Kyo, who played his love interest in Korean military drama "Descendants of the Sun," had sent a coffee truck to the set of "Battleship Island." When this was brought up during the red carpet interview, Song Joong Ki revealed that his co-star and rumoured girlfriend had sent something else as well.
"She not only sent a coffee truck, she sent a snack truck too. She's the best partner," he said, reported Soompi. This comment has many fans wondering if he just admitted to the existence of a romantic relationship between the two.
Although "Descendants of the Sun" ended back in April, Song Joong Ki and Song Hye Kyo have managed to stay in news, thanks to their sizzling on-screen chemistry. It did not take too long for romance rumours to start swirling around, and the actors have neither confirmed nor denied these dating rumours.
Song Joong Ki has been vocal about his desire to keep his private life away from the public and said in an interview that he likes to date in secret so as to preserve the privacy of the woman involved. "I will do my best to safeguard the privacy of the person I love and respect her feelings. I may also want to keep the [relationship] a secret," he said, according to Soompi.
Recent reports also indicate that the duo is getting ready to walk down the aisle. Again, an official announcement has not been forthcoming.
Song Joong Ki and Song Hye Kyo may once again reunite on screen for the sequel to "Descendants of the Sun," which will reportedly be aired in the first half of 2017.