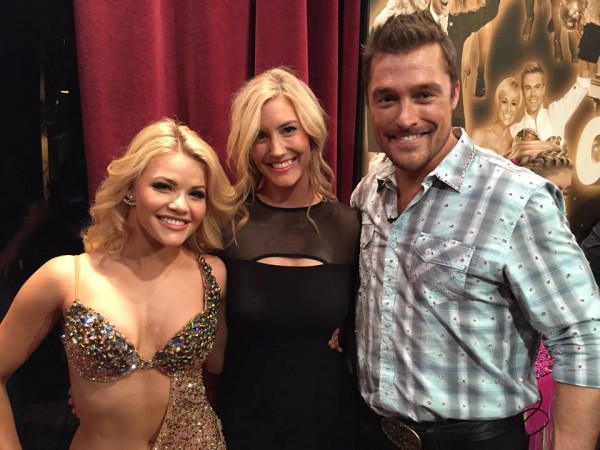 "Bachelor" star Chris Soules' fiancée Whitney Bischoff has reportedly packed her bags and gone back to Chicago to continue her work as a fertility clinic nurse, sparking rumours that the couple has called it quits on their relationship.
Bischoff, a constant presence on "Dancing with the Stars" for the past six weeks, was absent during last week's performance, and Soules told Glamour Magazine that his fiancée has gone back home as she was missing her family and friends.
"She (Whitney) actually went back to Chicago this weekend. She had some work things to get caught up on. And now [this process is] getting really intense. I'm not even existent to her, and she's missing friends and home, so she's going to take some time back there," the 33-year-old farmer from Arlington, Iowa said.
Speculations are also rife that Soules is cheating on his fiancee with his dancing partner, Witney Carson.
Soon after Bischoff's disappearance, a Radar Online report noted that Soules' family members too expressed concern about the duo making it down the aisle.
A telling sign, the media outlet said, was that Prince Farming's closest relatives are yet to meet his bride-to-be.
"I have not met her [Whitney]," Soules' grandmother Beverly Soules told Radar Online. "I've only seen her on TV."
Soules and Bischoff found love and got engaged on the dating reality show, "The Bachelor". Although it has been a while since the season ended, Soules and Bischoff are yet to make any wedding plans.
"[We] definitely [want kids], so one step at a time: Dancing, the move to Iowa, the wedding, and eventually a family," she told Us Weekly last month.
Soules added they'll plan their wedding once their lives become less hectic.
"We're just being happy -- this isn't real life yet," said the former "Bachelor". "The Bachelor, for us, wasn't real, really. It was a crazy vacuum situation. We're just looking forward to getting into our normal lives. Then we can talk about wedding planning!"