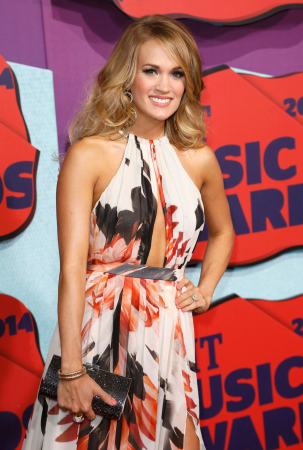 Carrie Underwood, who rose to fame following her 2003 "American Idol" win, has gone under the knife at least once since gaining a foothold in the industry, if recent rumors regarding the country singer are to be believed.
Recent pictures of the 31-year-old singer show her with sharper features and smoother lines, and a couple of leading plastic surgeons hinted that Underwood might have gone under the knife to make her face symmetrical.
"Carrie's features seem to be enhanced by rhinoplasty that narrowed her bridge and reduced her natural bump and tip," Jon Perlman, a Beverly Hills plastic surgeon who has not treated the country star, told Life & Style magazine, according to the International Business Times US edition.
Another surgeon, Payman Simoni, who has also never treated Underwood, shared a similar sentiment stating that "[Her nose] looked wider and less feminine when she was younger."
"Her nose is now in balance with the rest of her face," he said. "It hasn't created a major drastic change in her overall appearance, but she looks more feminine and refined."
He also believed that Underwood has received injectables to make her forehead looks smoother and lips fuller.
"Carrie appears to have Botox or Xeomin injections smoothing her forehead, crow's feet and frown lines," Perlman said, adding, "Carrie's lips look fuller now, most likely from injections of Juvederm or Restalyne."
Underwood has not yet reacted to these rumors, but fans of the singer have come out in full force to slam claims that she went under the knife to enhance her beauty.
"Sad they would say this about @carrieunderwood She wasn't gonna look the same as she did 9 yrs ago," tweeted one fan, while another added:" Do you think Carrie Underwood had a nose job? I say No. She looks the same!"
Others noted that the only difference in Underwood's features is that she has lost weight and toned up.
Interestingly, there are a lot of fans on Twitter who either want to go under the knife to look like Underwood, or have already done so.
Check out some of the tweets below.
If you see a newspaper headline saying "girl spends $260,000 on plastic surgery to look like Carrie Underwood" it's just me

— Sue Heck (@emilycarella3) November 7, 2013
Carrie Underwood makes me want to go to the gym... And get plastic surgery...and reevaluate my life. — Sophia Duff (@sophia_duff) November 9, 2013
#QuestionsIAskMyself how much plastic surgery would it take for me to look like Carrie Underwood

— Ashlyn Pissini (@Ashlyn_Pissini) August 13, 2013
if i dont look like carrie underwood when im that old im getting surgery — Keaton Milburn (@KeatonMilburn) May 19, 2014