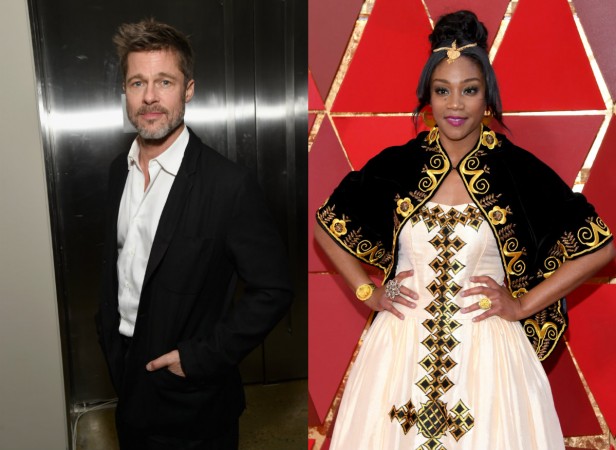 Brad Pitt is undoubtedly the most eligible bachelor in Hollywood. Following his split from Angelina Jolie in 2016, there have been rumors about him reuniting with Jolie and his first wife, Jennifer Aniston. Aniston recently parted ways with her husband Justin Theroux.
While those speculations keep the tabloids busy, actress Tiffany Haddish gave gossip mongers to a juicy bite to go crazy on. The Oscar 2018 presenter recently tipped off Kelly Ripa in an interview that Pitt said they would date in a while but there was one condition.
Speaking to Kelly as part of Live! With Kelly and Ryan, the two actresses got involved in a game of "Marry, Date, Ditch." During the game, Kelly named Pitt which led to the excited reveal by the comedienne.
Tiffany claimed that Pitt said he would date the Girls Trip star if he and the actress are single. "Oooh I just met him in the elevator. He said in one year if he's single and I'm single we're gonna do it so....you know what that means!" she claimed, sticking her tongue out at the thought of a possible relationship.
While the two stars would make an interesting couple, Tiffany may have just got our hopes high for nothing. Pitt was not spotted by the shutterbugs at the Oscars this year. The Academy Award winner was not nominated this year neither did he present an award.
So, there is a high possibility he did not attend the award function and he did not meet the actress. Well, even if were for a few moments, Tiffany got us rooting for her and Pitt.
Tiffany was one of the show stealers at Oscars 2018. Presenting the Best Documentary Short with Maya Rudolph, the actress turned heads with her traditional African gown in the honor of her late father on the red carpet and went on to hop over the barrier to meet Meryl Streep.