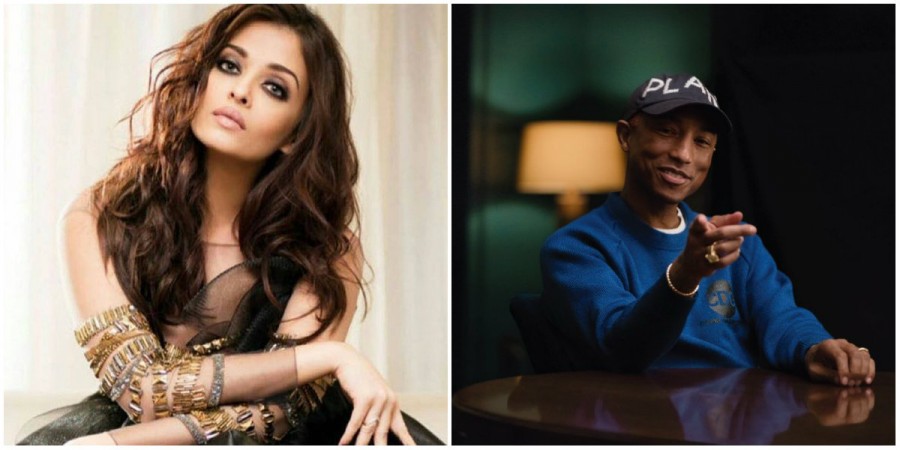 Ranveer Singh announced that he will be hosting a Holi party for American singer-lyricist Pharrell Williams, but it was not known that the rapper has already been in India for the last couple of days. The interesting scoop is that the international celebrity has done a secret photoshoot with Aishwarya Rai Bachchan.
We know it's hard to believe, but it is true. According to Pinkvilla, Pharrell arrived in India a few days ago to shoot for a magazine cover with Aishwarya. The pictures or news about the photoshoot has been kept under the wraps as the magazine team wanted to announce it themselves.
The online web portal said, quoting an onlooker, that the shoot took place at Mehboob Studios in Bandra on February 28. Aishwarya reportedly went for the photoshoot after attending Sridevi's funeral.
"Pharrell's commercially successful single, Happy, was a super-hit worldwide and was the most successful song of 2014. Aishwarya is, of course, used to shooting with Hollywood stars including Steve Martin, Colin Firth, Dylan McDermott and Martin Henderson, having acted in Hollywood movies, but this one was a special one for her as she met Pharrell for the first time," Pinkvilla quoted the onlooker as saying.
"They got along like a house on fire and kept talking through the shoot.He asked her about Bollywood movies, food and music as she shared some of her Hollywood experiences with him. Pharrell has come down to India to launch his new clothing line which is inspired by Holi, the festival of colors, so Aishwarya asked him about it too and his Holi plans as he will be in India then."
Pharrell and Ranveer have posted on social media the details about the Holi party that will be held today evening (Friday). Meanwhile, all we can do is wait for the magazine to publish the cover photo of Aishwarya and Pharrell.