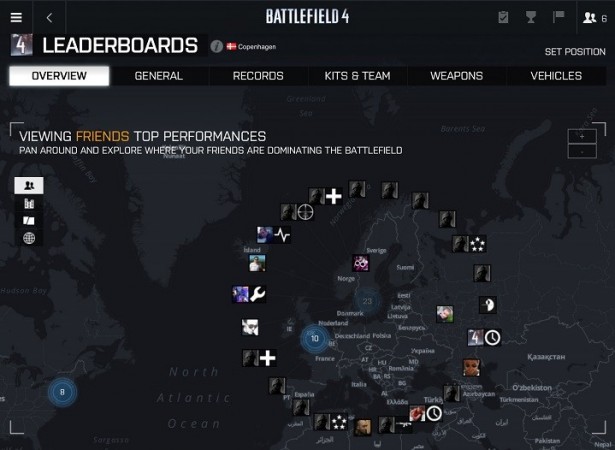 Developer DICE has released a new update on its second screen application, Battlelog for upcoming FPS gaming title, Battlefield 4.
"The goal with Battlelog for BF4 is to create an enhanced experience for the player that allows them to be constantly connected to the game, whether it's in front of their console or PC or on the go using their mobile device," said Jesper Nielsen, assistant producer for Battlelog in an official blog post.
"We had to fundamentally change some features - like fully integrating Battlelog into the game on next-gen consoles and PC. By doing this, it has enabled us to give Battlelog a style and look that is much more in-tune with the game, introduce connected features to make it an even more powerful companion and provide new ways for you to customize your experience."
Battlelog allows users to track their stats for Battlefield 4 with the app downloadable into tablets and smartphones. It will allow players to keep a track on their online friends and the number of active missions. Players can also create and add emblems that will be displayed on soldiers and guns in the multiplayer mode.
Players can check the teammates and their profiles in the squad while playing on the multiplayer mode. Battlelog will also give access to Geo Leaderboards, creation of a mission and the game progress during real-time.
Nielsen explained that the team's main goal was seamless integration of the Battlelog experience with the game. The studio has come up with Battlelog widget, which is placed on the top right corner of the interface, giving users access to notifications. It has also provided them with a choice of hiding the widget.
He said that the team has worked to bring this features for PC and next-generation consoles too. He further explained that unlike Battlefield 3's Battlelog, where the one on web and one for mobile had the feeling of being different entities, the new Battlelog is more uniform across platforms.
"You can view your stats, customize your Loadout, write in the forums, read the latest news, connect with friends, and more. Where the magic starts to happen is that Battlelog will now recognize when you're playing the game," he added.
He highlighted another feature of Battlelog: Remote Joining. If a players if playing on a servers and wants to join a different one, they can just pull up all the server list and press join.
Battlelog's BattleScreen for PC and next-generation consoles is another important feature, where a player taking on the role of the leader of the squad and is en-route to the battle area, can take a tablet and set up points of attack for the upcoming battle. The Battlescreen is in real-time with no delays.
The team he said, ensured that Battlelog and Commander Mode apps will function together without any problems.
Battlefield 4 will be released on Oct 29 for PC, PlayStation 3 and Xbox 360. It will also be released on next-generation consoles like PlayStation 4 and Xbox One on Nov 12 and Nov 19 in North America respectively.