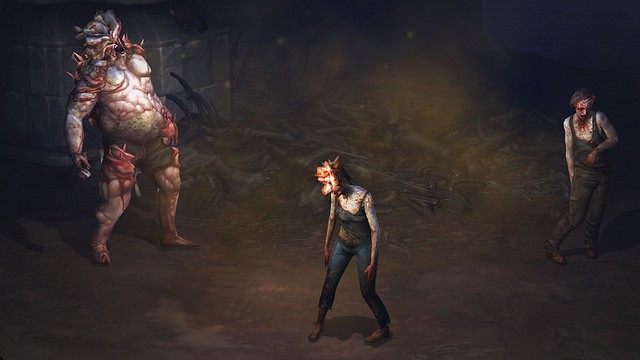 Blizzard Entertainment has revealed that the Diablo 3: Ultimate Evil Edition for PlayStation 4 will be receiving exclusive content.
Lylirra, community manager, Diablo 3 has said that the developers were "exited" about these exclusive features in a post on PlayStation Blog.
The hack and slash video game gets two exclusive content. It has been detailed below:
The Last of Us Nephalem Rift - Blizzard has teamed up with Naughty Dog in creating this feature. It was inspired from Naughty Dog's survival horror title, The Last of Us. This new addition adds a dungeon level and it will feature selected environments from the Diablo 3 universe. It will also feature an ominous yellow spore effect. This content will also include some monsters like Stalker, Clicker and Bloater infected.
Shadow of the Colossus Transmog Set – Players buying Ultimate Evil Edition will be receiving 'Guise of the Colossi.' This feature is a set of transmogrification that will allow players to unlock six armor skins which are influenced by the popular PlayStation 2 video game, Shadow of the Colossus. These will appear in six classes of the game.
Diablo 3 Runs at 1080p on PS4
Blizzard has confirmed that the PlayStation 4 version of Diablo 3 will be running at 1080p/60fps. This was revealed by senior producer, reported Joystiq.
However, Diablo 3 for Xbox One will be running at 900p/60fps. The disparity with the Xbox One system might be for a short time since Microsoft recently revealed a new software development kit update that boosts the GPU power of the console.
Release Date
Diablo 3: Ultimate Evil Edition will be released on 19 August for PlayStation 3, PlayStation 4, Xbox One and Xbox 360.
PC Version Gets New Patch Notes
The PC version of the game got a new update, 2.0.6 on 10 June. It brought about various changes in the game's monk class and monk legendary items. The new update increases the "momentum passive skill to balance it with the other monk passive skills."
"Legendary items are just as important to class power as class skills. We recognize that the Monk class sets went out underpowered and are substantially increasing their damage to be closer in comparison with the sets of other classes," said the patch notes for update 2.0.6, Blizzard explains in the patch notes.
The update also removes the requirement of unique crafting materials than crafting legendary items.