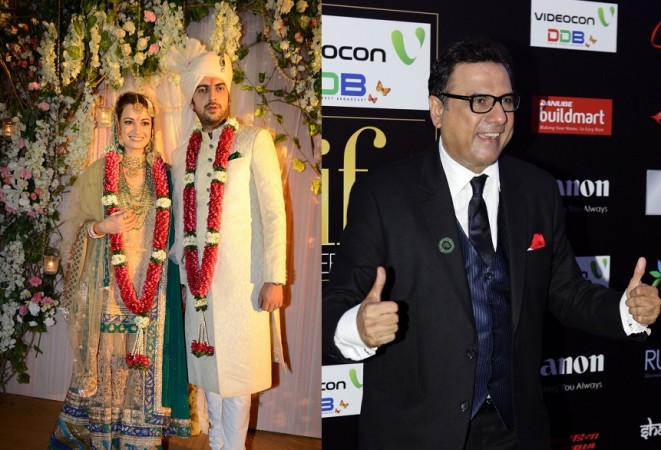 Actress Dia Mirza's wedding to her long-time boyfriend, Sahil Sangha, that was held on 18 October, was attended by close family and friends at Delhi. But Mirza was left heartbroken on her special day, when versatile actor Boman Irani didn't show up and live up to his promise.
Irani and Mirza had worked together in Raj Kumar Hirani's "Lage Raho Munnabhai", where the former played Mirza's father, and since then they shared a strong and emotional bond. Irani considered her as his adopted daughter and promised that whenever she gets married, the actor will play her father's role, considering that Mirza had lost her father a decade ago.
Excited about her marriage, the "Rehnaa Hai Terre Dil Mein" actress invited Irani and had even announced that he will be performing her kanyadaan and the rest of the duties of a father at her wedding.
Mirza had told Deccan Chronicle on the eve of her marriage: "Boman will be performing all the duties and rituals of the father during my wedding ceremony. It was a promise that he had made to me when we did Lage Raho Munnabhai together."
So when the actor missed the most important day of his adopted daughter, he shattered the bride to the core.
"Dia is a wonderful soul, a truly kindred spirit who believes in life-long commitments. When she had invited Boman to take her father's place at her wedding she meant it from her heart. Boman readily agreed to be there. Known to be a man true to his words, he, however, let down his adopted daughter on the most important day of her life," a friend close to the bride told DNA.
Apparently, Mirza was heartbroken and in shock. Teary eyed Mirza panicked as the family had to find someone suitable to replace Irani at the last moment, added Mirza's friend.
When Irani was contacted regarding the reason for his absence, the actor's manager clarified to Deccan Chronicle that the actor had to give it a miss as he was busy shooting for a promotional video for his upcoming film, "Happy New Year", that has Shah Rukh Khan playing the lead role.