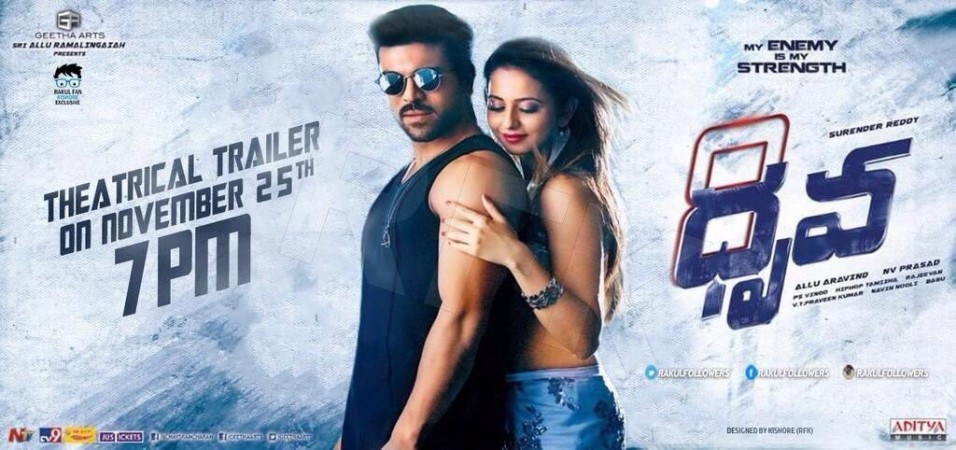 Ram Charan Teja's Dhruva performed well at the worldwide box office in its second weekend. The audience turnout to theatres to watch the Telugu film remained good, which helped the film end its 10-day collection on a high note.
As per trade reports, the worldwide gross collection of the movie stands at Rs 74.5 crore and the distributors have also recovered most of the investment. The movie is on the verge of becoming a profitable venture for them. According to Andhra Box Office, Dhruva earned Rs 47.5 crore as distributors' share.
The Telugu movie has collected Rs 49.4 crore with a distributors' share of Rs 33.79 at the Andhra and Telangana box office. Dhruva has raked in Rs 11 crore in Karnataka (distributors' share: Rs 6.22 crore) and Rs 3 crore from rest of India (distributors' share: Rs 1.15 crore). In the US, the film has minted Rs 8.35 crore (distributors' share: Rs 4.59 crore) and Rs 2.75 crore (distributors' share: Rs 1.40 crore) in other parts of the world.
It is now estimated that Dhruva could earn a lifetime distributors' share of Rs 60 crore. The movie could only achieve this feat if it maintains the same momentum.
Dhruva was released on December 9 to a huge expectation. The movie opened to a good response everywhere and collected Rs 22.50 crore at the worldwide box office on the first day. But it failed to become the biggest opener for Ram Charan. Bruce Lee — The Fighter had grossed over Rs 23 crore.
In the first weekend, Dhruva collected over Rs 40 crore worldwide
Meanwhile, trade experts predict the film would do well as the release of S3 aka Yamudu, which was supposed to happen on December 23, has been pushed due to various reasons. So lack of competition is expected to benefit the Ram Charan-starrer.
[1 lakh = 100,000 | 1 crore = 10 million | 100 crore = 1 billion]