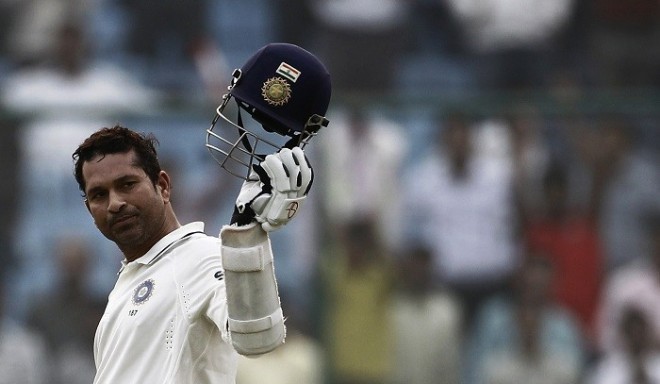 India skipper Mahendra Singh Dhoni admitted he had a feeling Sachin Tendulkar's retirement decision was just around the corner, while praising the Little Master for living up to the entire nation's expectations for such a long time.
Tendulkar announced he would retire from all forms of the game after his 199th and 200th Test, expected to be against the West Indies next month.
"I knew it (retirement) was coming, I am quite happy for him, for the kind of illustrious career he has had, for the time he was at the top throughout his career," Dhoni told reporters at a pre-match press conference ahead of India's first one-day international against Australia in Pune on Sunday. "For 23 years or so he was always at the top.
"He had to carry the expectations of so many Indians. At times the Indian fans set very high level of expectations. To bear with all of that and to come up with the performances that he came up with is fantastic."
Dhoni also admitted there would be an empty feeling in his heart, as in almost every single one's in the country, when Tendulkar does finally call it quits after that epic 200th Test.
"When you are top batsman for your side for a considerable period of time, everyone scrutinises your performance, when you score or not score runs," Dhoni said. "I think there was plenty he had to deal with apart from cricket, cricket of course was his passion. He had to deal with so many things that go around it. If you see all of that I think he has had a fantastic career.
"He had a few injuries too and from whatever interaction I have had the rehabilitation was far more painful than the injury. I am very happy he had such a fantastic career and also for the fact that he retired on his own terms.
"At the same time at some corner of your heart there is a feeling that you won't see him playing for the international team or any form of cricket. That's the only thing I am disappointed about."
Dhoni said he had learnt plenty from playing alongside Tendulkar, with the primary one being how to target a particular bowler in ODIs - after all there has not been a better one-day batsman than Tendulkar, ever.
"Of course it will be an end of an era," Dhoni added. "We all know that when he started playing cricket in '89 I was 8 years old. To remember what happened in 83-84 it's difficult. But closer to 90s in the past we can relate to what happened.
"To point out that this is the particular thing I learnt from him is very difficult. I think in the opportunities I got to bat with him I learnt to read the game," he said.
"Especially in the ODIs in the time I spent (with him) I learnt how to target a bowler, what to do and how to do at that point of time. I think that's something that has really helped me. There are plenty of other things I learnt from him but a press conference will be too short a time to explain all of that."
While there have been some healthy crowds for Test matches in India, rarely do you witness a full house for the five-day format. Dhoni, though, believes the crowds will flock in for Tendulkar's final two Test matches, with the landmark 200th expected to be in the Indian legend's home town of Mumbai.
"I think at the moment we would rather enjoy the two Test matches to the fullest," the skipper said. "It will give me an opportunity to see a houseful Test match. I have seen big crowds coming in, but it's one chance I will see a houseful crowd hopefully in both the venues. If I am not able to then in the next 25-30 years I don't think I will see a houseful Test match."