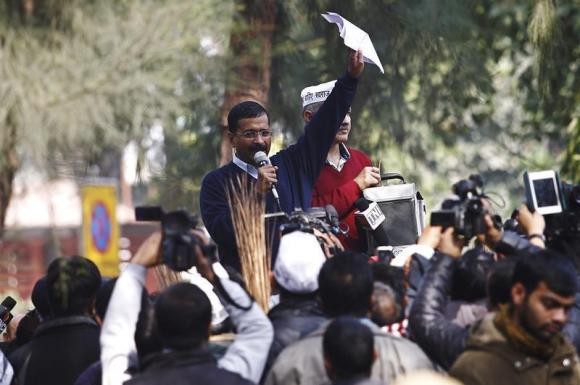 After a spate of Twitter jokes mocking the style of Arvind Kejriwal surfaced on the internet, it is now the turn of a group of musicians to do something rather eccentric about the Delhi CM.
Jokes on the Delhi CM had started surfacing weeks ago on the micro-blogging site; sometimes mocking Kejriwal's honesty with the hashtag #YoKejriwalSoHonest, while his bravery was also the butt of some jokes with the #YoKejriwalSoBrave hashtag.
But this one is rather different. A rap video, called Dharna Dance, directed by Kumar Devanshu and sung by Tanmay Bhat and Karunesh Talwar, is the mixture of all the jokes on the 'Dharna' minister.
The song, which is in the tune of the Lungi Dance in "Chennai Express", is funnily worded as: "Jab bhi Kejru ka bheja hatega, Tab who raste pe protest karega, Wagon R mein woofer bajega, Topi pehen ke aana padega. UPA ko kaun giraayega, BJP ko kaun harraayega. Kejriwal, Kejriwal Kejriwal".
Roughly translated it means: "Whenever Kejru's mind goes off, he protests on the street. The horns will blare like woofer in his Wagon R and he will come wearing a cap... Who will beat the UPA? Who will defeat the BJP? It's Kejriwal."
During the time of writing this article, the video was watched on YouTube over 124,000 times.
Watch the video below: